Here are this week's 'View from the 18' team synopses.
---
Our MR4 team report by Manager, Tony Zito:
After a week of postponement, I was a little nervous before our first game of this 2022 season, more so than usual.
A lot of it had to do with the fact that a lot of us haven't played on the same pitch since last September, we had some new players join us, plus, we were missing a few more. I can safely say, we handled ourselves very well.
Playing their first game for the Wolves were Dylan Tessier, Ignacio (or Nacho) Chiazzo Cardarello, Christian Maiorino, and Sammy Bland-Lasso.  
Welcome all to the Pack!Our opening goal, scored in front of his proud father, Sean, was by none other than Mr. High Socks, Michael Maguire. Well done Michael, pouncing on that rebound to pot our first goal of this young season. 
I know there were a lot of proud fathers at our game, the aforementioned Sean, Christian's dad, Francesco Maiorino, who plays on and manages our Wolves OT5 team, Christian's grandfather, who witnessed Christian's first goal as a Wolf, and finally myself, when my son, Matteo Zito scored his first of the season, on a PK, to make it 3-1, it gave us that needed extra breathing room and it led to more confident play.
Another goal by our sniper, Qemail Vuniqi, put the exclamation mark on a wonderful first-game effort. 
Our keeper, Braedon Cain was outstanding between the pipes, making some key stops early in this game, to keep it knotted at 1 before we put this one out of reach. 
#effortrewarded
Despite our uneven start, there's no question that we were the better team and with a more concentrated effort, we will only get better.
Final score:
Wolves 5
Ottawa Bears 1
MR4 'Players of the Match'
Ignacio Chiazzo Cardarello and   Sammy Bland-Lasso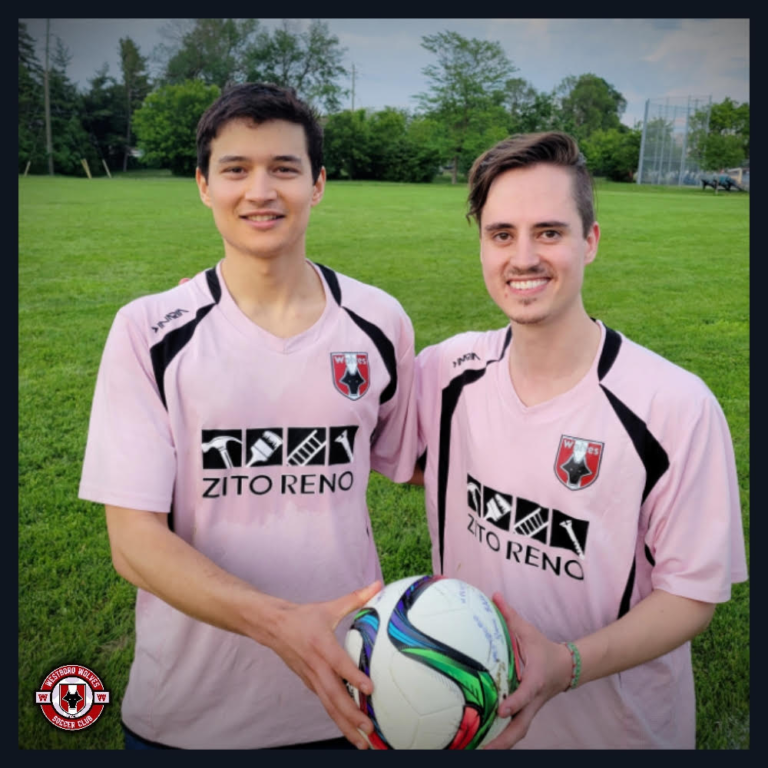 ---
Wolves OT2's Short Bench Hold Off a Late Push by OTFC synopsis by Coach, Mark Burger
Despite struggling to get numbers all week, and some pre-match controversy about playing on a field without lines, the Wolves overcame these challenges for their first win of the season, 3-2 over Ottawa TFC.  With only sub to rely on, the strategy was to go out, play hard early and get the lead.  True to design, Derek Koch notched the opening goal on a breakaway, from a through ball from Mark Burger.  The Wolves were winning most of the battles all over the field, and the back line of Corey Sul, Kevin Beyer, Eamon Kavanagh, and Duc Tu held firm.  Early in the second, Derek scored again, this time directly off his head, from a corner from Mark. 
The Wolves appeared to be cruising, after Shezi Aziz sent a hobbling Liam Smithies in for 3-0 lead.  This turned out to be the winning goal, as TFC ramped up the pressure and fought back with 2 goals, and may have tied it, if not for a save off the throat by keeper, Chris Stone.
Liam's courageous effort, despite playing at 60%, earned him 'Man of the Match', and the post-match mood was celebratory with Peter Worthing's chicken tandoori and a birthday cake for Dom Morgante.
Happy Birthday Dom!
---
How About that Second Half!!!
Wolves OT3 vs Spitfires
This report by Team Co- Manager, John Bergeron:
Coming off a bitter defeat at home last week, the OT3 Wolves looked to get back on track away at Quinn's Point against the Spitfires. 
In the first half, each team traded chances. The home team's opportunities were thwarted by a couple of great saves by our keeper Edson Resendes and timely offsides that kept Spitfires scoreless through the half. The Wolves' attack also generated opportunities but too few to disrupt the Spitfires defense and keeper. 
In the second half, all of that would change as just a few minutes after kickoff, striker Jules Alie took on a couple of defenders, then from 20 yards out, launched that curled over the Spitfires keeper and into the top corner – a wonder goal – to give Wolves a 1-0 lead. 
That goal broke the ice and the floodgates opened. Over the next 15 minutes, an inspired Wolves' side would score another FIVE times, ALL of them off the boots of striker Elliott Faller, and each one an example of excellent team play as defenders, midfielders, strikers, and even our goalkeeper getting involved in creating attacks. Wolves up 6-0 with a lot of time remaining. 
Spitfires continued to press, looking for some signs of hope, but were left frustrated.
Striker Ervis Danaj would add to the lead with a left-footer and a solo effort, in a 35 yard rocket by midfielder Dan Smith, capped off the scoring for the Wolves. 
The postgame ribbing was that the offence showed up for only 45 minutes, whereas the defence played a full 90! 
Man of the match: Elliott Faller who scored an amazing 5 tallies.
The final from Barrhaven,
Wolves 8-0 Spitfires.
Our gratitude to OT4 call-ups Mitsuo Yamada and Russ Arthurs for helping fill out our depleted lineup. 
Extra thanks to Russ for providing phenomenal pizza from his Boston Pizza reataurant, during our 'third half' celebrations. 
---
Wolves OT4's inspired play falls just short !
This report from OT4 keeper, Amedeo Melone:
Our OT4 team played on the alternate Sunday night, a welcome change on the schedule that each OT team will experience this season.
As briefly described by Team Manager, Tim Ralph, our OT4 team played a good game, but  couldn't generate any offense or capitalize on their chances.
Final score:
Sporting Peru OT4 3  Wolves 0
---
Wolves OT5 Dig Deep for Second Win of the Season !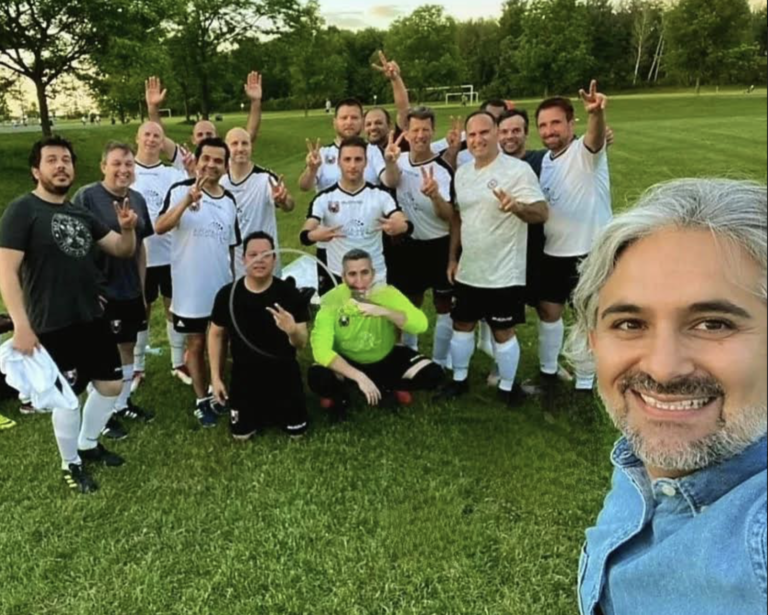 By OT5 Manager, Frank Maiorino:
Our Wolves OT5 came up with a gutsy 3-1 win against the Ottawa Bears to make it two in a row to begin the 2022 season.
The Wolves were buoyed by the support of alumni Kevin Judd, John Bergeron, and Luigi Florimo, who cheered their former team-mates to a hard-fought win, despite having 8 regular players out with injury.
The Bears got out to a fast 1-0 lead after scoring an ugly goal from a mad scramble in front of the Wolves net. They continued to dominate possession in the first half and beat the Wolves to numerous 50-50 balls, but it failed to materialize into any goals as the Wolves held strong on defense. In fact, we capitalized on one of their few scoring opportunities when leading scorer, Qemail Vuniqi, took a neatly placed shot from 30 yards out that eluded the Bears keeper making the 1st half score 1-1.
The second-half started off physically with both teams exchanging heavy tackles battling for ball possession. The Wolves broke the tie after a series of slick passes up the right wing that resulted in a nice pass along the mouth of goal from Qemail Vuniqi to MR4 call up Bright Fair who tucked it neatly into goal giving the Wolves a 2-1 lead they would never relinquish. The Wolves then secured the win against a demoralized Bears team when Qemail Vuniqi again received the ball after a series of nice passes and made a nice move around the Bears keeper and then scoring from an impossible angle. 
Final score:
Wolves 3 Ottawa Bears 1
Our 'Player of the Match' was keeper, Dorian Proulx who made numerous clutch saves, despite playing through some pain due to an injury.
The Wolves are determined to make it win number 3 against North Dundas on Friday June 10 at Ben Franklin field 6.
FORZA   WOLVES !