MRA Notes from Tony Z.
I'll start by stating that I'm proud of how our MRA performed in their game this week. You may be asking how can he be proud after another loss? For a stretch of 20 minutes in the 2nd half, after being down 2-0, and more guys getting hurt and having to leave the game, we could have folded and accepted defeat, but we didn't. Scoring those two brilliant goals brought the excitement back. I haven't seen our team as pumped and emotional in weeks. And that's why I'm proud.
This exemplifies what I've always known …we are a good team thatis finding its cohesiveness. We've fielded a different line-up in each of our 4 games. The effort is there and the results will follow. Off the pitch, we celebrated a milestone birthday of one of players, who turned the big '30' and he spent it with us. We pulled out all the stops, the 'non-alcoholic' champagne was flowing! Congratulations Owen Johnston!
Final score : Gloucester 3 Wolves 2
Our goal scorers were Reda Ghazal and Seb Gilles.

'Player of the Match' for displaying some hustle and being tenacious on the ball was Matteo Zito.
Congratulations Matteo!
---
OT2 Update
The schedule for the rest of our teams was a little light this week.Our OT2 graciously agreed to a request to reschedule their game because their opponents couldn't field enough players. That game will be played in September.
Great sportsmanship lads!
---
OT4 Update
Our OT4 team began their match but it was called due to thunder and lightning. No word yet on when that game will be replayed.

---

This report from OT6 manager Frank Maiorino:
Wolves OT6 made it three wins in a row against the White Eagles on a stormy night at New Edinburgh field. Smooth and silky Adakole Kennedy opened the scoring with a great left-footed stab after a scramble in the box that eluded the opposition keeper. Jefferson Daugherty was back from injury to score a brace. His first goal was scored on a beautiful header on a perfectly placed cross from the right half by Andrew Specogna. His second was a nicely placed spot kick after a trip at the edge of the box. A tenacious defence, anchored by all-star keeper Edsen Resendes, limited opposition opportunities and withstood unnecessary rough play by a frustrated White Eagles team to help earn the good guys their second shutout in a row.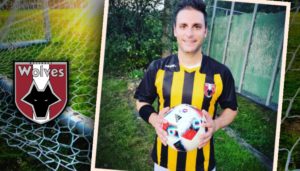 The 'Man of the Match' was Dino De Franco who shut down the White Eagles best player with an unmatched dogged pursuit of the ball that caused the player to lose his head which pretty much sealed the victory for a very balanced Wolves side.
Final score : Wolves 3 White Eagles 0

Have a great start to your week everyone!
FORZA Wolves