MR4: Our week began in an orange haze, literally. 
By: Tony zito, TEAM MANAGER
---
The city of Ottawa had some of the worst air in the world as smoke from wildfires in northern Ontario and Quebec blanketed the capital. The skies were tinted in that citrus hue, rather than the preferred clear blue.
The OCSL took prompt action and cancelled League games for most of last week, including our Wolves MR4 team's game against the White Eagles.
Thankfully, the air quality improved and our OT games went on as scheduled.
Our team results were favourable.
---

OT2: A Buoyant Effort!
By: Mark Burger, TEAM COACH
---
Resiliency. That would describe the Wolves' effort in our last game. Once again with low numbers, against a strong Falcons team, that seemed to have a whole bench of quality substitutes. The weather conditions and smaller field suited the Wolves as they dug in for a 90-minute struggle. Early on, possession and chances were even, but the Wolves back three, with Eamon Kavanagh's support, held firm and the midfield, with help from Peter Worthing's back pressure and aerial prowess, kept on battling. The arrival of Mike Popiel, around half-time, provided some much needed energy, as the Falcons had started to generate more pressure and opportunities.
Early in the second half, a hard slide tackle earned the Wolves a yellow card and the ire of the opponents, perhaps even distracting them. Shortly thereafter, Mark 'Maaakkk' Burger struck a first time volley into the corner giving our Wolves an unexpected lead. The Falcons tied it shortly thereafter, but then the Falcons received a red card, reducing their ability to pressure, and the match ended in a well-earned draw.
We thank our Wolves MR4 call-up, Kevin Ridgway for his energetic play.
Our post-game host, Eamon prepared a pleasant pick-up truck picnic with an all you can eat tortilla buffet.
---
Final Result
WOLVES 1
FALCONS 1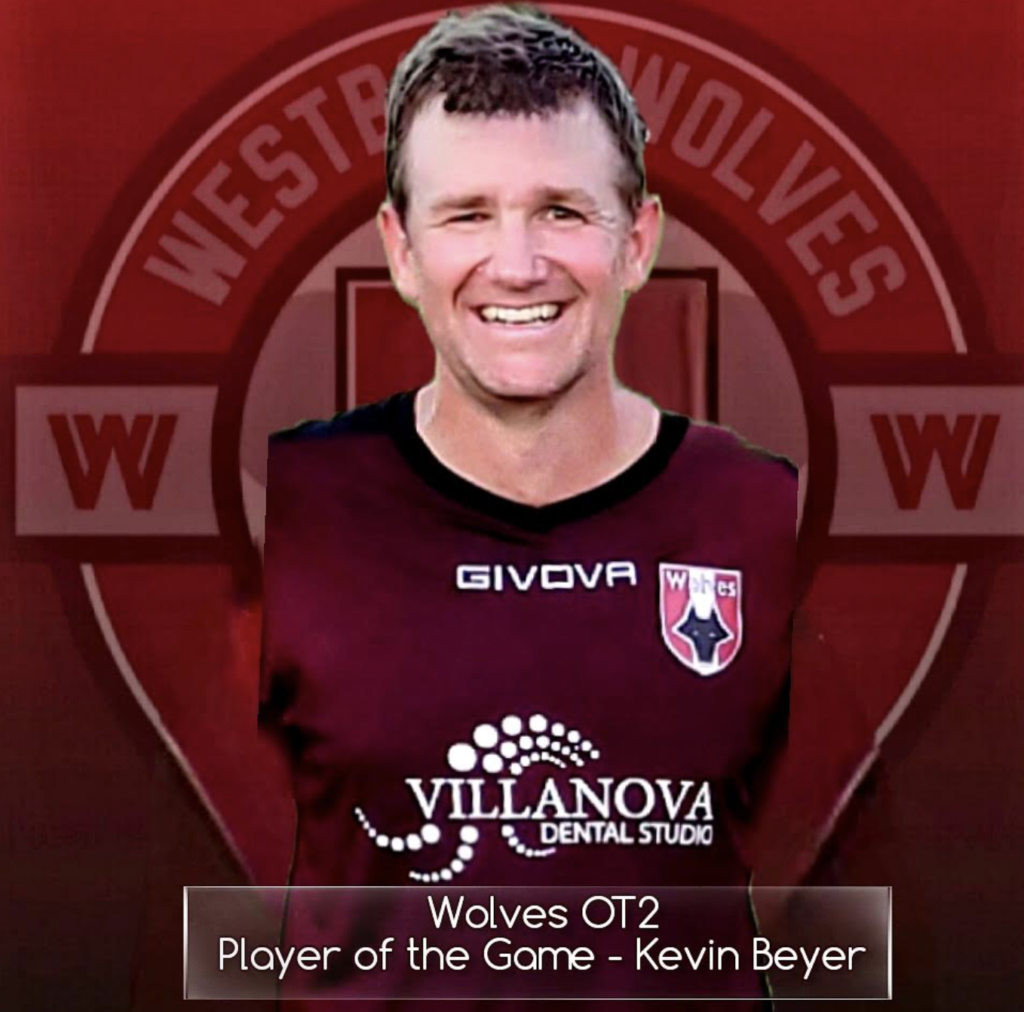 OT5:
By: Tony Zito, CLUB MANAGER
---
Our Wolves OT5 team lost a tough match against Aylmer Les Rapides.
---
Final Result
WOLVES 0
LES RAPIDES 3

OT6: Shades of 2022 as the Westboro Wolves OT6 Win in Dominating Fashion!
By: Frank Maiorino, TEAM MANAGER
---
Our Wolves OT6 were once again victorious, beating the Carleton Place Rangers 5-1 after a strong second half performance on the road in Carleton Place.
The visitors got off to a fast start on a beautiful header by Wolves striker, Ada Kennedy from a killer cross distributed by all-star defender, Dino De Franco – his second assist of the season. Our Wolves continued their strong play after our first goal dominating possession and narrowly missing on several more golden opportunities. However, the Rangers did not lose hope and squeezed in a tying goal on a slippery shot that squeezed under Wolves keeper, Frank Maiorino's fingers making it 1-1 at half time.
In the 2nd half, our Wolves came out flying, taking control of the midfield and finally broke through for their second goal on a perfectly placed laser shot by Q. Vuniqi. A third goal followed shortly thereafter by converted forward, Jefferson 'Airplane' Daugherty that demoralized the Rangers who could not break through the spirited Wolves fullback line led by veteran Tony Zito,
Bruno Bossio, and Salvador Herencia Carrasco. Newcomer Mahdi Hemmati scored the fourth goal and Kennedy then scored our fifth on a beautiful feed from Vuniqi, capping a spirited performance by the boys from Westboro.
---
Final Result
WOLVES 5
RANGERS 1
The Wolves are on the rise!