Long Ball on a Short Field in WOLVES MR4 Play.
By: Tony zito, TEAM MANAGER
---
Never a good combo for 11 v 11 play. It felt like we were playing on a youth-sized field 

This was a battle against a very athletic but often reckless squad. Our opponents didn't give us much space and our flow of play was definitely disrupted. I give props to our team for not backing down and for tracking the ball well on their continuous 'long ball and chase' tactic.  Yes, this game was tighter than it should have been. We are a more talented, technically sound team, the White Eagles hung around because of their speed, up front, and the defending of their back line.  Our strikers Qemail Vuniqi, Carlo Zito,  Dylan Tessier, and Bright Fair never really had a clean path nor look at their net.  

White Eagles strikers, meet our back line, which was cobbled together due to no center backs present at kick-off….Sammy Bland-Lasso, Dylan (whose kicks and throw-ins were amazing!), Chris McMahon, and Alonso Gartner you all did a splendid job of nullifying their early pressure. And when a ball did get through, our keeper, Michael Maguire was there to gobble up any loose balls. 

We owned the mid-field…Diego Gartner, Fahad Boty, and Nacho Chiazzo- Cardarello. did a wonderful job. When we started to spread the field, our wingers, Matteo Zito, Omar Taher, the two Kevin's, (Ridgway and Pereira)  moved the ball effectively and serviced some well-placed balls in their 18. 

Kudos to Kevin Pereira for being our offensive catalyst. On his first strike, he drove to the net, beating their keeper to the ball and scoring an 'excuse me' tap in and then AGAIN, with determination and urgency, taking the ball to the net and scoring from another absurd angle. And more importantly, he celebrated with 'class'. 

Something our opponents should take note of.
---
Final Result
WOLVES 2 : EAGLES 2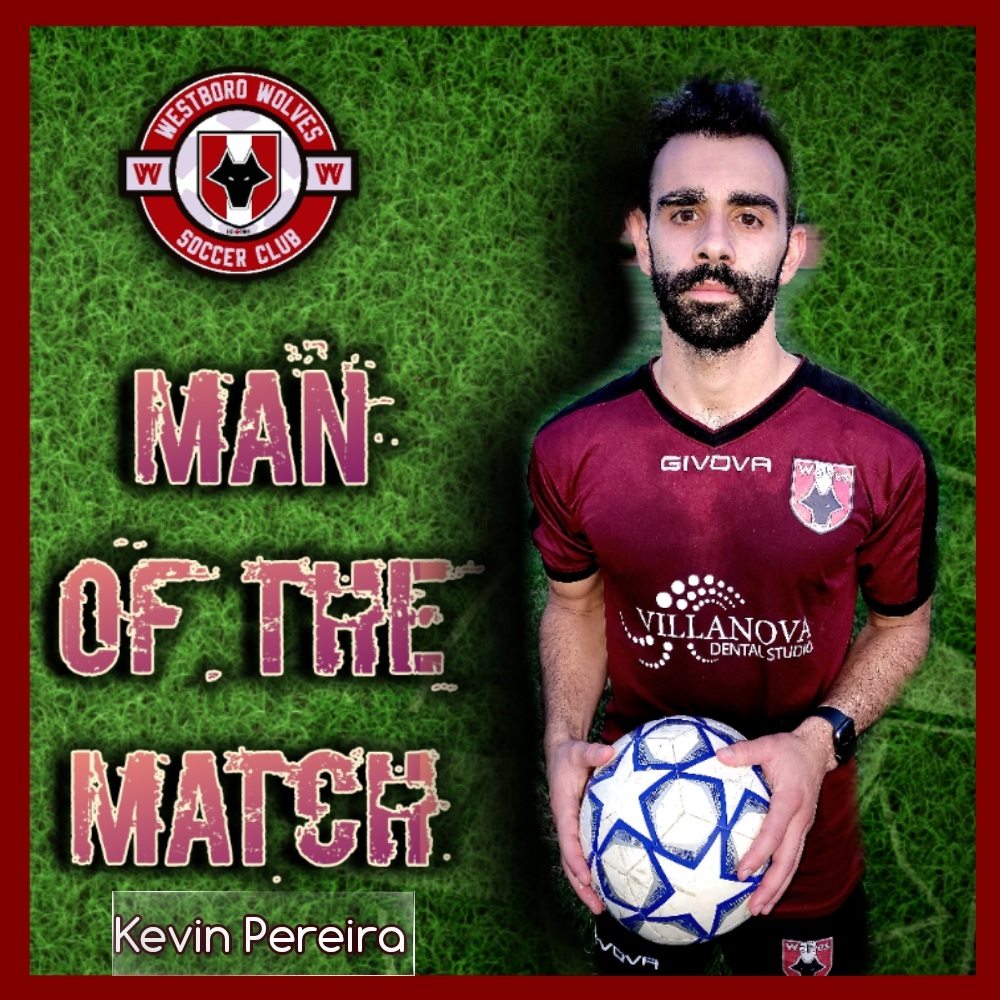 WOLVES OT2 Mount a Comeback!
By: Mark 'Maaak' Burger, TEAM cOACH
---
Entering into the business end of the season, the Wolves OT2 had an opportunity to cement their place at the top of the division.  The realization of the occasion brought out a large lineup, however, having 6 subs may have been a detriment against a determined Nepean Hotspurs with only 11 players.  The Wolves fell to an early 2-0 deficit, not undeserved, given the lack of intensity.  The undermanned Hotspurs deployed an effective strategy of striking early and then tightening things up to hang on.  The Wolves did get on the board before half-time as Michael Owen slotted home a penalty, which was earned by Mike Popiel on a great, driving run even if the foul was a little soft.  Jeff Knight went down early with an injury and Mike P. departed at halftime and this seemed to rally the Hotspurs who retook a 3-1 lead.  

Soon after this, the Wolves began to assert themselves, slowly generating chances which led first to a goal from our Liam Smithies  This was followed by a beautiful top corner left footer from Timon Gareau, off of a classy lay off from Peter Worthing. 

Final score 3-3 and now the Wolves will need 2 more solid results from their last 2 games. On a positive front, the Wolves did maintain an undefeated streak, now up to 11 games, stretching back to the 1st game of the season.
---
Final Result
WOLVES 3 : N. HOTSPURS 3
White Eagles Cannot Take Flight
Against Dominant WOLVES OT3!
By: John Bergeron, TEAM ASSISTANT MANAGER
---
Wolves OT3 team travelled to Mooney's Bay to play the bottom of the table White Eagles OT3 at the Terry Fox Athletic Facility. 
The White Eagles were in trouble right from the get-go as they kicked-off with just 10 men. This allowed our Wolves to dominate possession throughout the match and we created several scoring chances.

Our first breakthrough was off the foot of Jeff Beaty ( his fifth goal of the season) in the first half. Despite a number of opportunities including eight corner kicks, we went into halftime with just the one-goal lead.

We continued pressuring the Eagles from the second half kickoff, and quickly doubled our lead off the boot of striker Ervis Danaj who curled a left-footed shot past the goalkeeper from just inside the top of the 18-yard box. The build up tonthat goal is credited to Marty Habicht whose swift give-and-go with John Bergeron, and then his nimble pass to Danaj allowed the striker to net his fourth goal of the summer.
 
Brian Mulligan extended our lead when he tapped in Sean Debeau's cross at the back post with the keeper nowhere to be found.

Beaty and Mulligan again traded goals, each netting their second of the night to comfortably put us up by five. Mulligan was denied his hat-trick by a hand ball that negated our sixth of the night. 
Our keeper, Edson Resendes, had a relatively quiet evening with few, if any, real threats at goal. He registered his fifth clean sheet of the season, not only the most in the division, but the most among the OT35 teams in the OCSL. 
---
Final Result
WOLVES 5 : EAGLES 0
WOLVES OT4 'Search' for their 4th in a Row!
By: Adam Black, TEAMMATE
---
In the days leading up to their rematch against the Ottawa Bears OT4, this Wolves group was quite focused on enacting revenge for an early season loss. However, as the game kick-off approached, things were looking bleak with the player numbers down significantly. Referencing the wise words of a "magic 8 ball" child's toy, it was "outlook not so good" on all fronts.  But luckily for the Wolves, they were once again able to call on a few mercenary players from our WOLVES OT2 fellowship who had just wrapped-up their match at a nearby playing field.

(Editor's note: well done Boyz, thank u ).

This game had a few monumental occasions, including a dazzling goal from Mr. "Man of the Match" himself, Rob "the flower" Lafleur! His efforts resulted in a 3-1 victory for the Wolves. Also chipping in from the Wolves side, with a goal each, was Ada "Scooby Doo" Kennedy and Jay "Doc" Leclair. 

The game also saw a spectacular display of sportsmanship as players from both teams scoured the field, on hands and knees, during a brief pause in gameplay, searching for an opposition team member's missing wedding ring. Apparently, some "significant others" demand that type of a response!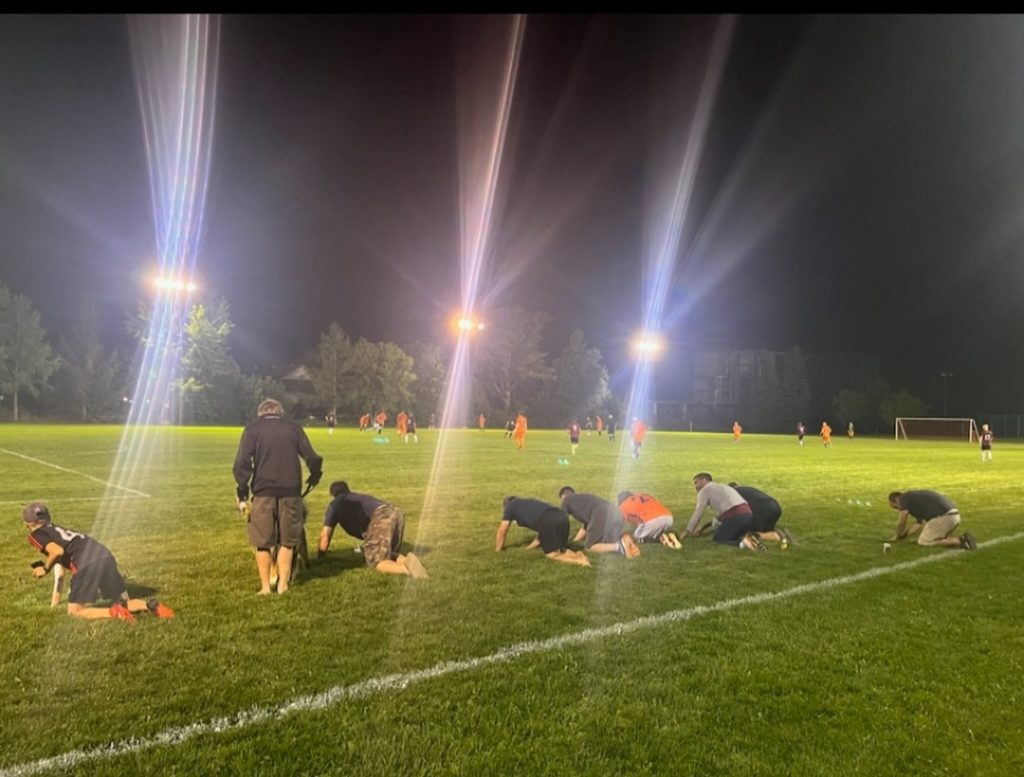 This Wolves group is now riding a 4-game winning streak and it seems as though it will take a far more significant hurdle to knock them off their path. Destiny is all!

Go Wolves go!
---
Final Result
WOLVES 3 : BEARS 1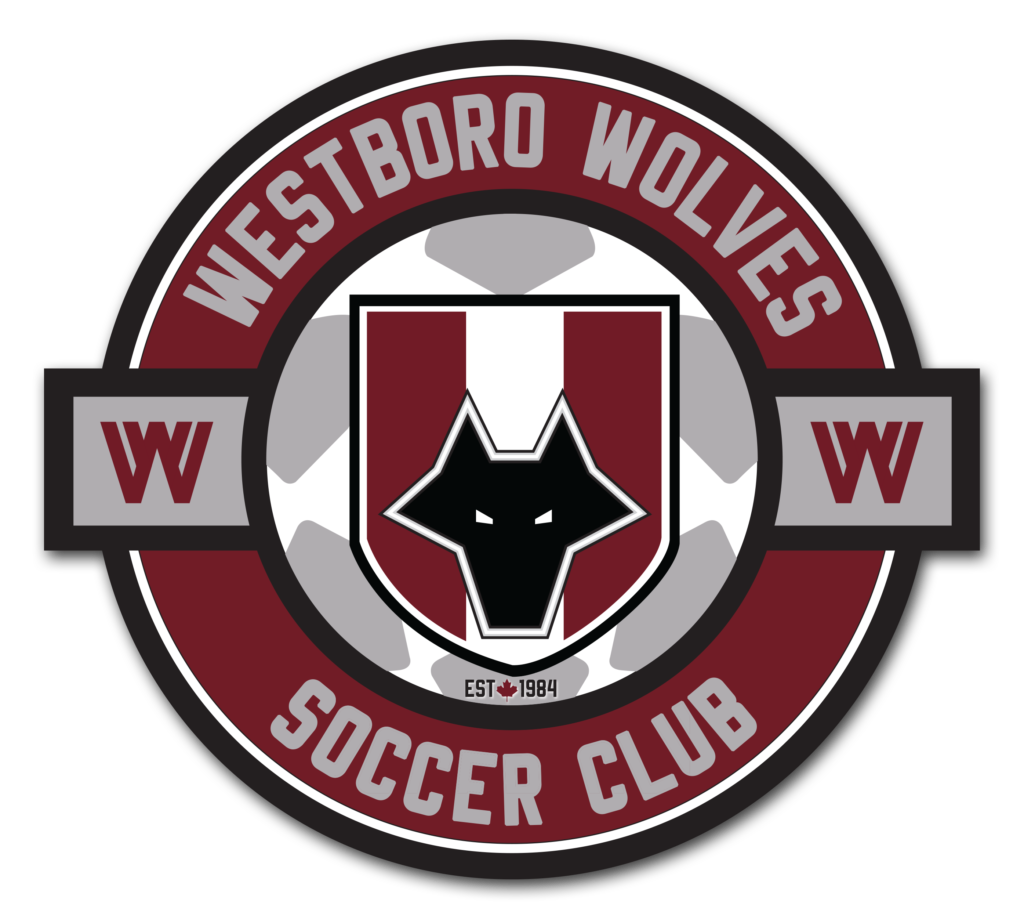 WOLVES OT5 Fall to A.S. Congo
by: Frank Maiorino, TEAM MANAGER
---
Our Wolves OT5 lost to a skilled and physical Congo team on a steamy hot Friday night. 

The scoring started quickly for Congo as their key forward received a pass in the middle of the field, danced around a couple of Wolves defenders and struck a beautiful shot into the top left corner of the net. The second goal was caused by some unfortunate circumstances. A penalty shot was give due to a hand ball in the box by a Wolves defender while another Wolves player lay on the field following a 'head shot' that was unfortunately not called right away by the official. That was quickly followed by a through ball that bounced off a Wolves defender onto the foot of a Congo forward who took the ball on a breakaway and took a well-placed shot into the corner of the net. A shell-shocked Wolves team was down 3-0 before the game was 25 min old.  Congo then came out after a water break to score 2 more making the score 5-0 at half time.

Wolves started the second half with a 3-4-3 formation to try to increase scoring and mount a possible comeback like Game 1 of the season  when Wolves scored 6 unanswered goals to beat Congo 8-5. 

Our Wolves battled hard creating numerous chances when leading scorer Qemail Vuniqi took a beautiful through ball and ran past 2 defenders striking a beautiful 30 yard volley into the right side of the net breaking Congo's shut out. Despite the final score favouring Congo  6-1, our adjustments in the 2nd half were effective as the scoring was held at 1-1.

Wolves will forget this one quickly and get ready to face the Bears in the 'Battle of the Wild' in our next match.

After our game, the team was informed that one of our own,  Mark Petch, was moving to B.C. permanently. Mark was an important contributor this season scoring some big goals despite playing on an injured knee and also backstopped the team in a 7-2 victory against Fusion. 

---
Final Result
WOLVES 1 : A.S CONGO 6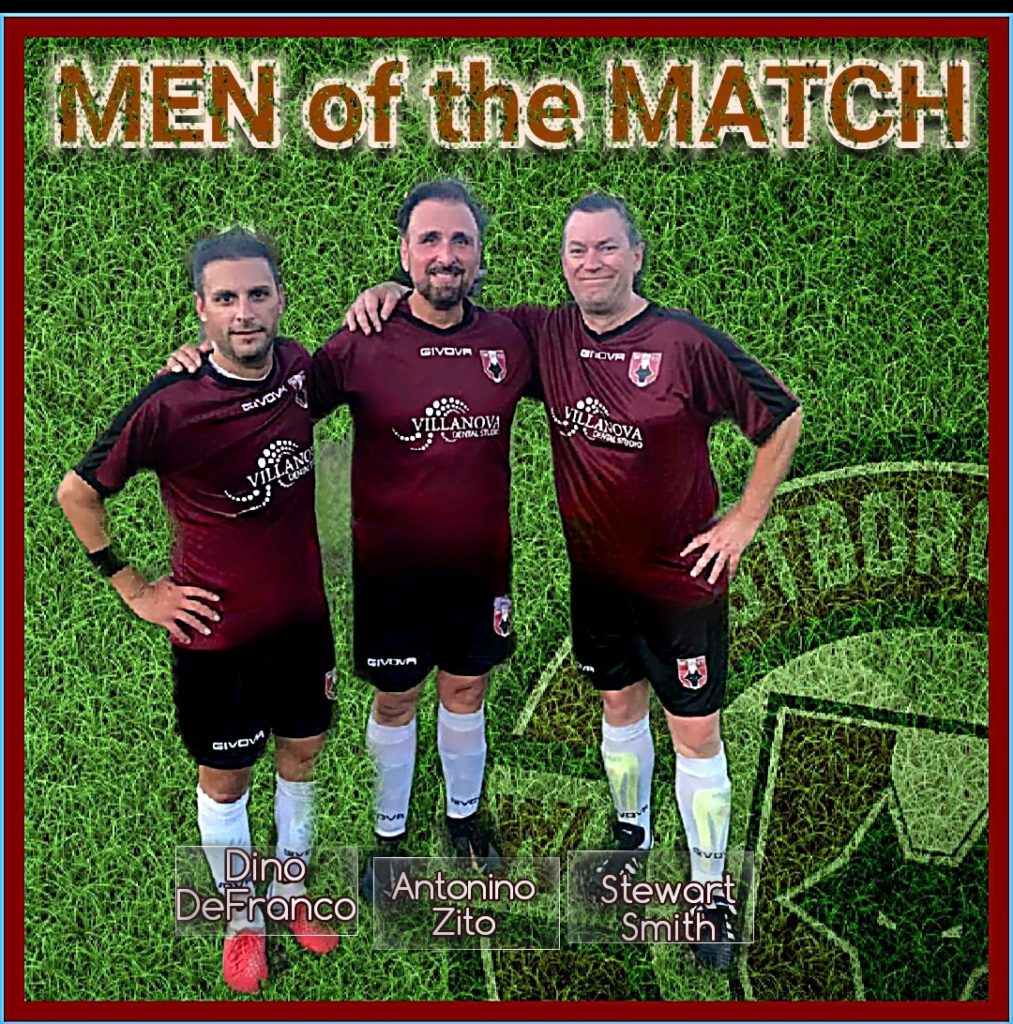 Another good week for our Club….the Wolves MR4 team posted points for 3 games in a row, our OT2 extend their points-earned streak to the aforementioned 11 games straight,  the Wolves OT3 are unbeaten in 6,  and their Keeper, Edson Resendes is tops in all OT divisions with 5 clean sheets. Our OT4 made it 4 wins in a row, and our OT5 was in tough, ending their 2 game unbeaten streak against a physical team, some with no names nor photo I.D. !!!!


Keep up the great play.
FORZA WOLVES 



Tony Z.