Resilient Wolves OT6 Make it Five Wins in a Row!
Our MRA team report provided by Tony Zito:

Going into our game, knowing our opponents, the White Eagles were winless, I was fearful that we'd get off to a slow start. And my fears were realized early.  We were sitting back. Despite their lack of numbers, their energy and attack levels were high and frustration began to control our play, not the skill I know we have.

There were several sideline discussions about what we were seeing before us. I kept hearing…we need some goals for Tony (it was my birthday) and eventually we were treated to the spectacle of certain players taking control, out hustling and  creating opportunities that led to thise goals.
That long cross from striker Carlo Zito,in the box, to  outside mid, Kevin Pereirawas a beauty and that finish! BOOM! Midfielders, Kevin Ridgway and Diego Gartner were like 'bees on honey' out there, chasing down balls, taking away opponent's space. Well done you guys.

We led 3-0 at the half. Comfortable, but we wanted more. 
As day turned to night and it was almost impossible to see the ball, the White Eagles were pressing hard and our last piece of business was to secure a clean sheet. Our back line and keeper, Michael Maguire made sure of that with some timely clearances and finger tip saves.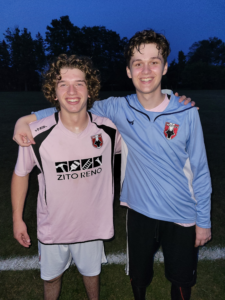 Final score
Wolves 6 Eagles 0
Another claw from behind result. Unbeaten in 4 matches!
---
Here is Mark Burger's from our Wolves OT2 weekly game report :
The sudden drop in heat and humidity for this week's match, made for ideal playing conditions and set up the Wolves for a possible victory at home against Gloucester Sporting.

Unfortunately, despite having a relatively deep roster of available players, 5 of those players who were nursing various injuries. Our mission was made tougher as a couple limped off during the course of the game. In a worrying trend, the Wolves started slowly again and gave up the early lead. In fact, the Wolves couldn't seem to string any passes together and were playing down to the opposition's level.

Things shifted in the last 10 minutes of the 1st half after our keeper, Chris Stone made a stellar body save on a rebound after the initial free kick hit the crossbar. This led to an equalizer from Liam Smithies with a deadly low corner finish off a cross from Derek Koch. Despite this late half spark, the Wolves again started the 2nd half poorly and gave up another goal to trail 2-1. However, once again the Wolves improved their play later in the half, with Liam securing his brace after a poor back pass from the opposition.

Late chances by Timon Gareau and Mark Burger could have won the game for the Wolves, however, the 2-2 draw was a fair result.

Final score
Wolves 2 Gloucester 2

Our 'Player of the Match' fornhis heroics was Liam Smithies who scored the aforementioned brace!
Great job Liam!
---
This game report from our OT4's Amedeo Melone:

OT4 came out of the gates on fire – scoring in the first 5 minutes of the game. We held off the OttawaBollides for the next 20 then it was downhill from there.

We conceded 2 goals to set the stage for a lesson in humility. Lack of some key players and subs meant the boys were exhausted. But we played on.

Some valiant defensive efforts by Tim Ralph, Lorenzo Valenzuela and Jason Leclair but the final whistle was a welcome sound.

Game ended 6-1 for the Bollides.
---
This game report from our OT6's Frank Maiorino:
Westboro Wolves OT6 made it 5 wins in a row beating West Ottawa OT6 3-1. The score was not indicative of the dominant play displayed by the Wolves who had several scoring opportunities thwarted by a surprisingly agile and nimble West Ottawa keeper.

Several promising through balls were intercepted and a number of quick reflex saves were made off beautiful headers by Vince Wienecke and Jefferson Daugherty that looked like sure goals.

The Wolves opened up the scoring early in the first half when Andrew Specogna sailed in another textbook cross from the right sideline that found the head of a diving John Bergeron that the keeper could only watch sail into the net. Wolves keeper, Edson Resendes then kept West Ottawa off the score sheet saving a powerful long range shot with a spectacular diving save that deflected a ball away from the top right corner of the net.

The Wolves really worked in the midfield after that battling for every ball which resulted in many through balls that were either called offside or resulted in weak shots and easy saves for the West Ottawa keeper. The first half ended 1-0.
Wolves', Mitsuo Yamada then took control early in the second half by sailing a beautiful shot from outside the box over the opposition keeper's head giving the Wolves a 2-0 lead. West Ottawa quickly countered when they fed the ball to their 'very offside' speedy forward, who tucked it inside the right post.

The Wolves defence led by Dino De Francoeffectively neutralized him the rest of the way. The last goal was scored again by MitsuoYamada who took a perfectly placed shot into the net which capped another honest gritty effort for Wolves OT6 who now enjoy a 2-point cushion at the top of the table over Arnprior.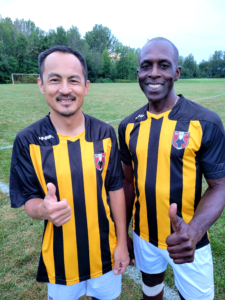 'Men of the Match' were Mitsuo Yamada for his two-goal performance and Curvan Alexander for his disruptive play in the midfield and defence.
FORZA WOLVES
From all of us to one of us:
This week we celebrated Tony's birthday, who has been doing the heavy lifting and ensuring the Wolves are able to play each year.
Happy birthday Tony & thank you for all your hard work, considering the amount of time and hard work you put into running this club you make it look so easy. We're lucky to have a club manager like you!