Boyz,
A frustrating game for our MRA team is putting it mildly.
When we should have passed long, we went short, and vice versa.
We weren't in-sync in the first half. The Falcons are a heavy team to play against and we played a little too timidly. Some of our guys took a beating. But they hung in there- and it's appreciated.

We knew if the score stood on our opponent's fluke goal, it would have been harsh and deeply disappointing. I'm sure our keeper, Michael Maguire wanted that one goal back, so he bared down and kept us in this one the rest of the way with some timely, point-blank saves.
The second half saw our pace improve dramatically.
Late in this game, we were pressing, creating multiple scoring opportunities.
We deserved a goal!
That late equalizer by our striker, Carlo Zito was inspiring,…finally landing in their 18, where he struck it into the back of their net to the sounds of relieved cheers from our teammates.
I applaud our team for putting in the effort until the final whistle.
Sometimes a hard-fought tie game can feel like a win!
Our 'Players of the Match' were Kevin Ridgway for his constant press, Carlo Zito for getting that most welcome goal, Ahmed Rashid, and Seb Gilles for their back-line play.
All deserving
Final score:
Wolves 1 Falcons 1
Tony Z.
---
Here is the weekly game report from the Wolves OT2's Mark Burger:
Things were looking pretty daunting for the OT2 Wolves heading into their showdown with Fiorentina, one of the top teams in the division. Injuries, combined with the long weekend, meant that the Wolves were struggling just to field a team.
Fortunately, with a couple of late call ups, the Wolves were able to field a team of just 11 players. Despite the challenge in front of them, they started brightly, with a lovely goal from outside the 18-yard box from Eamon "Euro" Kavanagh, followed up a delightful curled free kick into the top corner from Liam Smithies. The early 2 goal lead did not last long however, as Fiorentina struck back with 2 quick goals, from their even quicker striker.
The Wolves continued to battle against the odds but conceded one more goal to trail 3-2 at the break. A half-time change in formation, pushing Mark Burger up to help press Liam, the lone striker, put Fiorentina on their heels for much of the half.
Despite evening up the match, an unfortunate miscommunication led to an own goal and the Wolves found themselves down by 2. However, we continued to battle and a Beckham-like free kick into the top corner by Kevin Beyer, brought the Wolves within a goal. Unfortunately, push as they could, darkness and the clock worked against us, and the Wolves dropped a hard-fought battle 4-3 against a very strong opponent, with only 11 players.
A great effort from all of the boys.
Despite playing with a bad ankle, against a top team of fast strikers, Lloyd Fernandes played above his weight to earn 'Man of the Match' honors.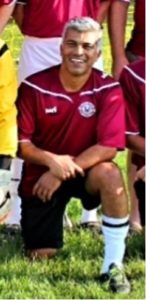 Mark
---
This summary provided by call-up Tony Z.:
Our Wolves OT4 team played a spirited match against a rowdy Rockets United.
Bolstered by 4 of our OT6 players who played early and then late, to help our Wolves Pack.
Although most of us were running on fumes, we played a cohesive game against a tough opponent.
The Wolves', Q Vuniqi struck a beautiful cross into our opponent's net to make 1-0 early.
Our opponents tied the game and looked to take the lead on a called PK but our keeper, Amedeo Melone made an excellent save to keep it at 1's.
Tied at 2 and a fortuitous bounce inside our box led to their winning goal.
We were all in, moving the ball well played hard till the final whistle, but couldn't get that equalizer.
Our 'Players of the Match' were keeper, Amedeo 'Buffon' Melone for his excellent toe save on that aforementioned PK and for keeping us in this game with timely save after save. As well as 'Dynamo' Peter Stewart for his high energy press and tenacious efforts …. all game long!
Final score:
Rockers 3 Wolves 2
The post-game BBQ was a welcome respite after this emotionally-charged match !
---
This synopsis from our OT6 team co-manager, Andre Nadeau:
Despite playing the last place squad, Saigon United, our team stayed focus and maintained our level of play.
It was less than 2 minutes into this game, complimented by some beautiful movement in the mid-field, the ball was in the back of their net with an easy first strike from Oscar Arrieta.
It was followed by goals from snipers Qemail Vuniqi and Jefferson Daugherty and just like that it was 3-0.
Ada Kennedy added another before the end of the half to make it 4-0 for our Wolves.
The good work kept coming with our midfield controlling the game. Even though our backline and keeper weren't often challenged, our goal was to defend well and maintain a clean sheet.
After I challenged Q and Ada to shoot more, they both delivered with Q scoring 2 more goals and Ada adding another.
John Bergeron and Jefferson Daugherty completed the scoring.
Final score :
WOLVES 9 Saigon United 0
Make it 6 wins in a row.
With such a good showing we honored 4 players for 'Players of the Match'.
Congratulation to Q Vuniqi, Oscar Arrieta, Vincent Weineke and Jefferson Daugherty.
Special mention to Marco Piacentini who manned the sidelines and the clipboard to ensure everyone got their fair share of playing time.
With this win, combined with Arnprior's loss, our team is in the driver's seat to finish first in our division.
Cheers,
Andre
---
In a week where several of our players helped out their fellow Wolves Pack by playing back-to-back games, the results were mixed but the experiences and memories won't be forgotten.
FORZA WOLVES

Tony Z.