MR4: Our Wolves MR4 face Soaring Temperatures and Adversity!
By: Tony zito, TEAM MANAGER
---
At kick-off, the heat was unbearable and the humidity relentless but, we pressed on. Once again, we started off strong and could have buried 2 or 3 early goals. We missed several scoring opportunities by mere inches. There were a lot of great plays made tonight. Our goals coming from the back to front lines.
That header by Jameson Bevington on Carlo Zito's corner kick and Q's wonderful strike, for our 2nd, were timely. They lifted our spirits, and we began taking it to our opponents, and I felt we were going to score another.  Due to our opposing team inserting an already suspended and another ineligible player, into their line-up, the League acted swiftly and they forfeited this game. Unfortunate for the White Eagles but rules are rules.
---
Final Result
WOLVES 2
EAGLES 0
OT2: Our Wolves OT2 Welcome New Blood To Their Pack!
By: Mark Burger, TEAM COACH
---
Things looked desperate all week long with only 8-9 players available for a big long weekend clash with Croatia Jadran. Just when we were on the verge of considering a postponement, our Club Manager,Tony Zito came through and arranged some call ups from the former C.C.A.. This turnaround, along with Bert Lee's surprise appearance, set us up for a comfortable win against a weaker opponent. All three call ups played an important role in this win. The Colombian keeper was great with his distribution, even if he was not called upon to make any saves. Kay was solid and creative, with some great overlap and interchange play at left back. Juan Carlos played his part on the right wing, doing well to hold the ball and playing it forward.
Our Wolves started a little tentatively, probably due to all the new faces, and even started with 10 players as Timon Gareau rushed to the field. The first half had some chances, as the Wolves carried the play, but the attack was fizzling in the final third. Kyle Ingram was isolated on the wing and growing increasingly frustrated, while Maakk's hip flexors prevented him from making any runs. Switching Kyle into the middle for his driving runs and pushing the hobbled captain to the wing to deliver balls into the box, may have been the trigger the Wolves needed. Early in the 2nd half, Liam Smithies turned and struck a beautiful ball off the post, only for Timon to calmly finish into their open net. That first goal was what the game needed. It seemed to take the wind out of Croatia's sails and our Wolves took over the match, led by our 'Player of the Game' .
Our Wolves continued their attack, Kyle fed Maaakkk for the 2nd with a neat cutback that was curled into the top right corner. Then it was Liam's turn with another beautiful curling cross. And finally Kyle rounded out the scoring with a powerful finish into the corner. With the amount of time the Wolves had on the ball, it could easily have been 6 or 7 nil.
The new additions to our Wolf Pack were full of praise for the Wolves' style of play and team togetherness. We may have found some new recruits moving forward.
---
Final Result
WOLVES 4
JADRAN 0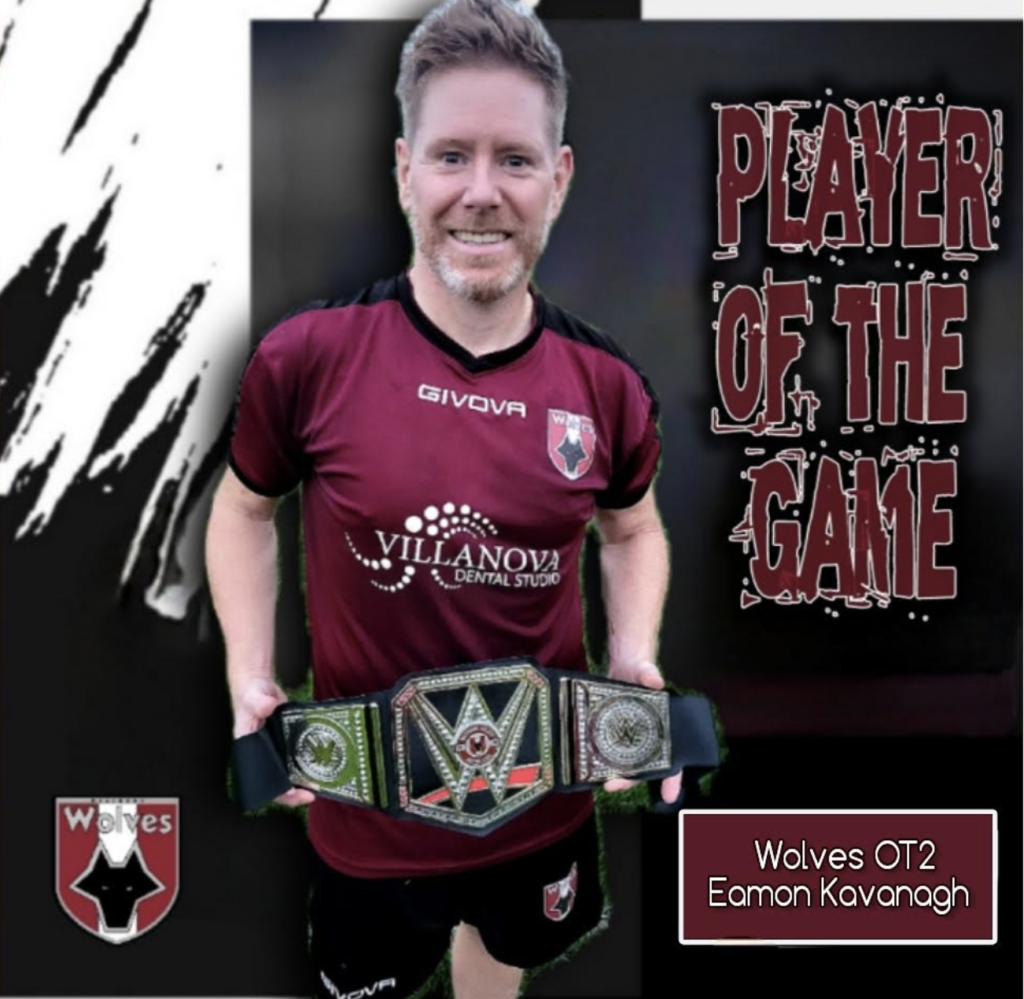 OT5: A Greek Tragedy
By: Adam Black, TEAMMATE
---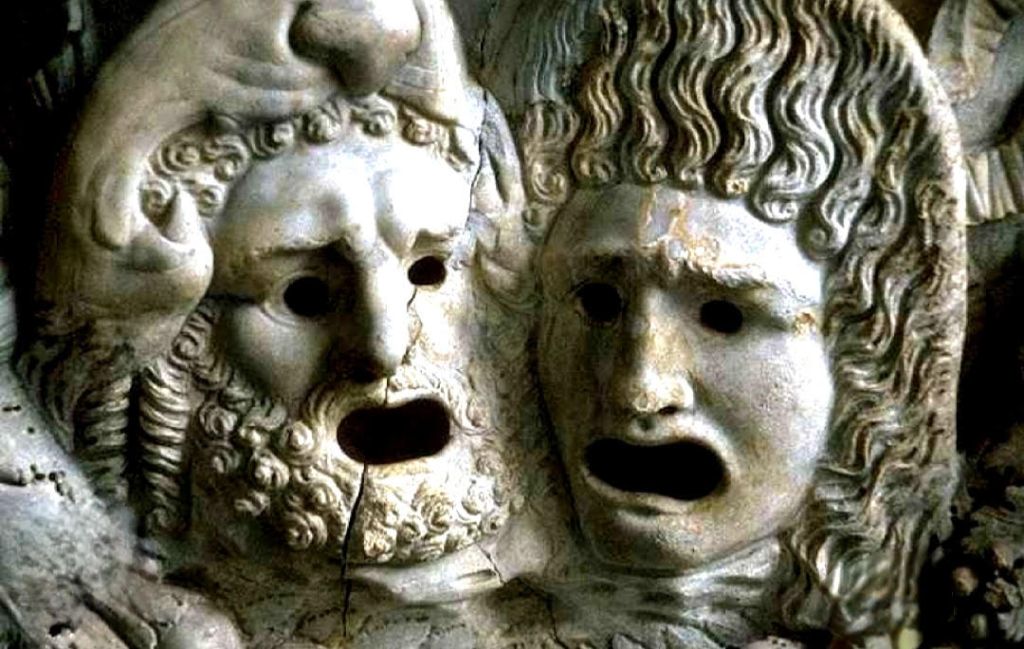 The 2023 Summer season was a mixed-bag for our OT5 Wolves. And staying true to that theme, the final game of the season was no different.
In front of a record-setting crowd, at Ben Franklin Park, the Wolves stumbled out of the gate against their opponents, Ottawa Hellenic. As was described by some in attendance, the slow start was seemingly linked to a mild case of performance anxiety. You see, this was very much a winnable game, with only 1 point separating these two teams in the division standings. The team had a strong desire to close out the season on a high note!
Despite the slow start, the Wolves still held momentum in the early going of this game and they clearly held a stranglehold on possession. However, things changed by the mid-way point as Hellenic became relentless in their counter attack.
This game was clearly led by star-worthy performances from the goalkeepers at both ends of the pitch, with our Wolves' Amedeo Melone making a couple of spectacular breakaway saves to keep his team's hopes alive in the first half. Pairing Melone's goalkeeping performance with the inspirational mid-field play from our team player-manager, Tim "Tugger" Ralph, the Wolves held onto hope, despite falling behind 1-0.
Unfortunately, a late game push from our Wolves simply wasn't enough and Hellenic chipped in a late goal to close things out.
Our season wrap-up party at Boston Pizza was hosted by team utility-man, Russ "Swiss-Army" Arthurs and provided a bittersweet close to our season.
Looking ahead, towards next year's rebound and a return to grace,
Your OT5 Wolves
---
Final Result
WOLVES 0
HELLENIC 2
OT6: The Wolves Tame the Almonte Lynx!
By: Salvador H.C
---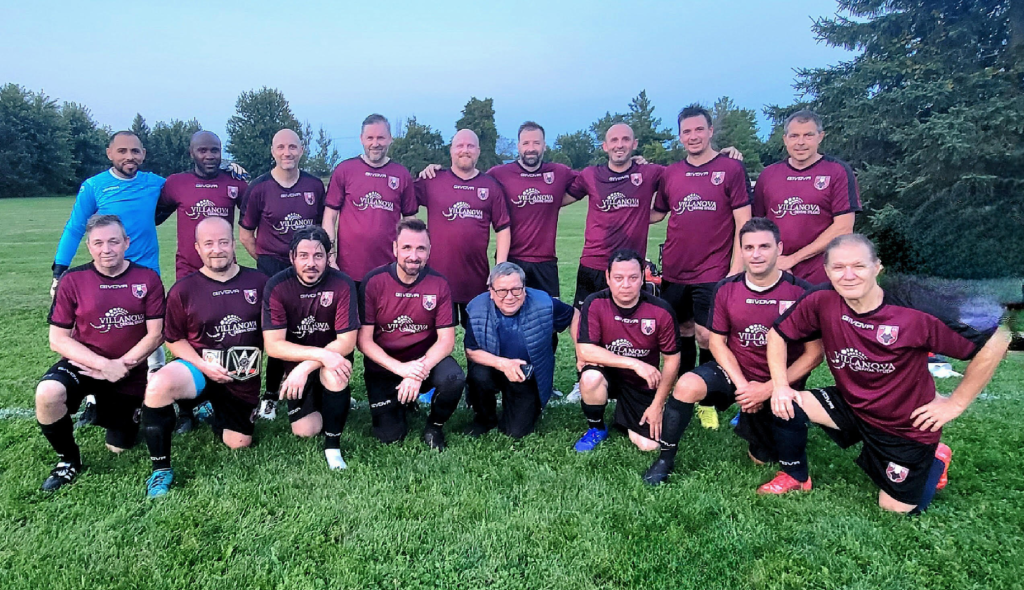 Despite the long drive and the fact that some of our players had difficulty finding the right field (clearer signage would help), our OT6 Wolves were ready to face the Almonte Lynx on another humid Ottawa evening. For the first time in a few rounds, we didn't need to recruit players from our other teams. Despite some players coming back to the team after a period of vacation, everybody was game-ready, and (mostly) in form.
The first half of the game, the Wolves were able to set the pace of the match. Within 20 mins, the Wolves were up 2-0, thanks to goals scored by Jefferson Daughtery and Marco Bernabo. Despite the lead, Almonte would create scoring chances but the D-line, formed by Tony Zito, Dino DeFranco, Mathew Crosier, Marco, and Salvador kept them at bay. In addition, our keeper, Oscar Renato Arango, made a couple of brilliant saves. By the end of the first half, Wolves were up 3-0, thanks to another goal by Ada Kennedy.
At the start of the second half, Almonte started strong, scoring their only goal of the match. However, thanks to good plays and smooth transitions from our mids Andrew Specogna, Arben IIiriani, Luca Ruggiero, Q, Ted Pilon, and Jamie Harris, the Wolves scored again (thanks Q) to restore a 3-goal lead for the Wolves.
One of the team mottos after scoring is to tell each other that the game "is zero-zero!!". This inspired our forwards Ada, Kevin Moorhouse, Jefferson, and Vincent Weineke ro play like there was no tomorrow, chasing every ball and hungry to score. Unfortunately, we lost Jefferson due to a minor knee injury. Despite this setback, our Wolves kept on, continuing to set the pace of the match, ignoring any provocation from the other side. Towards the end, Ada and Q scored again, and we extended our lead to 6-1 to seal the victory for the Wolves.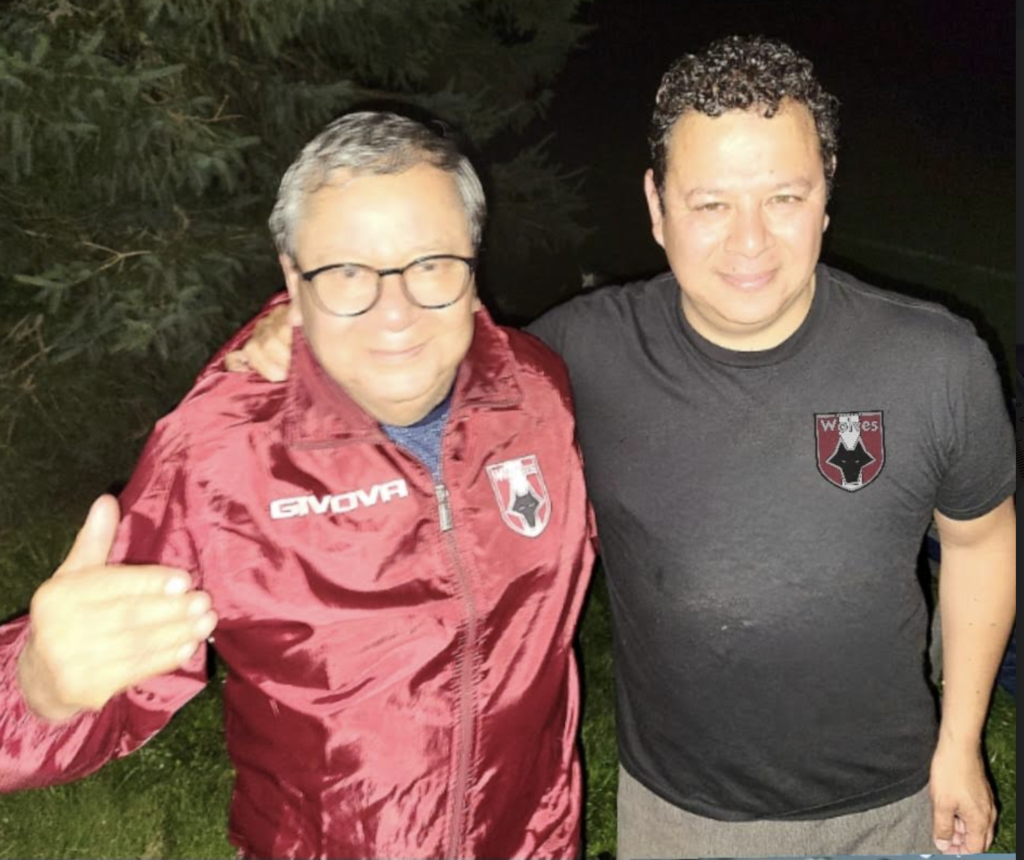 As a bonus, Salvador Jr. brought along his visiting 71-year-old dad, Salvador, Sr., who hails from Peru, to see our match. He had a great time but was upset he couldn't record his son missing a penalty shot. At the end, he said that "this is a great group of muchachos, and you play very well". He was gifted a Wolves jacket that he will proudly wear back in Peru.
To end the current season, the Wolves will face Fitzroy Harbour Dambusters in back-to-back matches.
---
Final Result
WOLVES 6
LYNX 1