MR4: We were Down but got back Up!
By: Tony zito, TEAM MANAGER
---
We started this game with some hesitation. It was like we were gauging our opponent's skill and abilities. Their record was 0-2, 10 goals against and 0 goals for but they are definitely a better team than that. We did hear that they brought in some new impactful players, though it wasn't significant to produce any results for them.
After surprising us with a long boot and even higher bounce off the dry, hard ground that resulted in their opening  goal, some of us felt taken aback. How was this possible? We always talk of lucky bounces and that's exactly what they got. That seemed to be their only play in what I'm sure is a very thin playbook because they went back to it over and over again and we made the adjustments to ensure we didn't allow another. 
It was important that we answer back and not go into the second half down a goal. Some great sideline work by Kevin Pereira and even better finish by our striker Q. Vuniqi, was our response. Their first goal may have stunned us but, I believe, we amazed them with our winning goal. A monster throw, in their 18, by Dylan Tessier, was perfectly placed and then headed by Kevin P into their net. Their keeper was flat-footed and was asking himself, how did they just do that? Kevin P completed his brace by adding another insurance goal for a tidy but well-earned victory.
Some observations…

To Dylan's father Moe Tessier, who asked if my wife taught my son, Matteo that nice inside-out move he pulled off, affirmative. But I take credit for his timely slide tackles 🙂

To our mascot, Neville 🐶, for eating Diego's panino!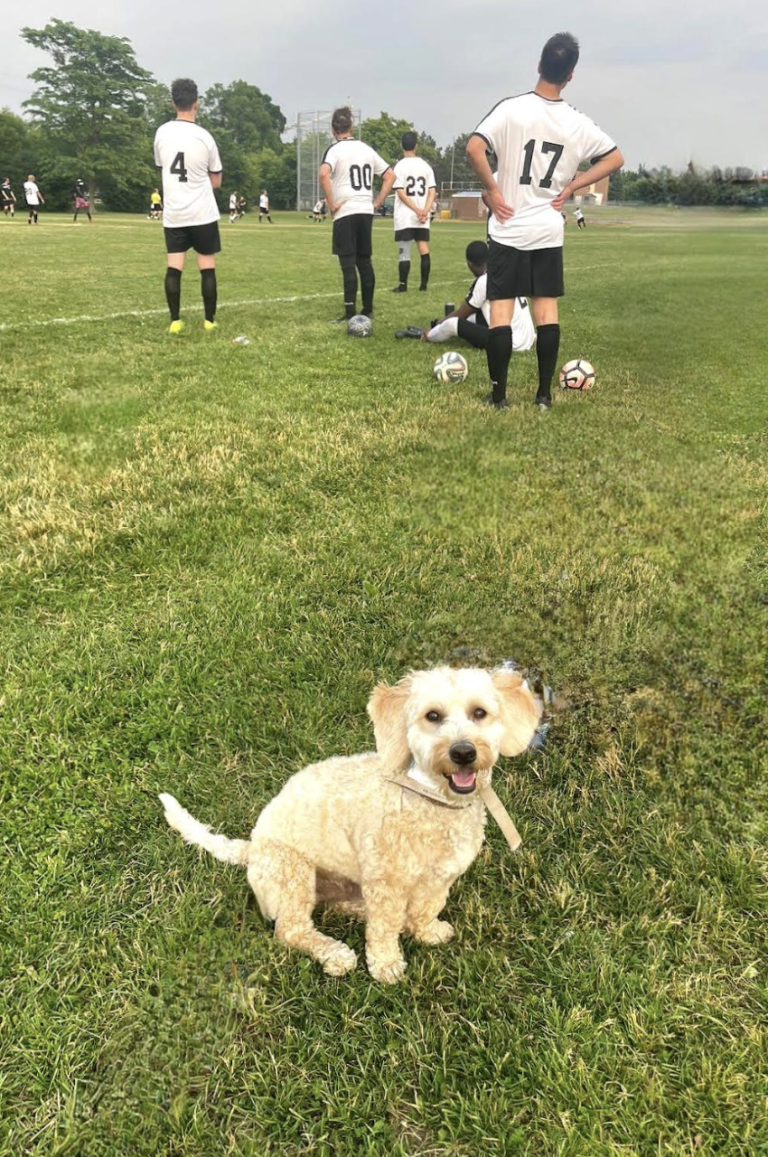 Our post-game gathering was lively. 
Thank you Nacho for the cerveza, Jameson for the water and Gatorade, of course Nino Panino for the variety of PANINOS! And our supporters…Christina, Alana, Miguel, Moe, and Neville.
---
Final Result
WOLVES 3
HORNETS 1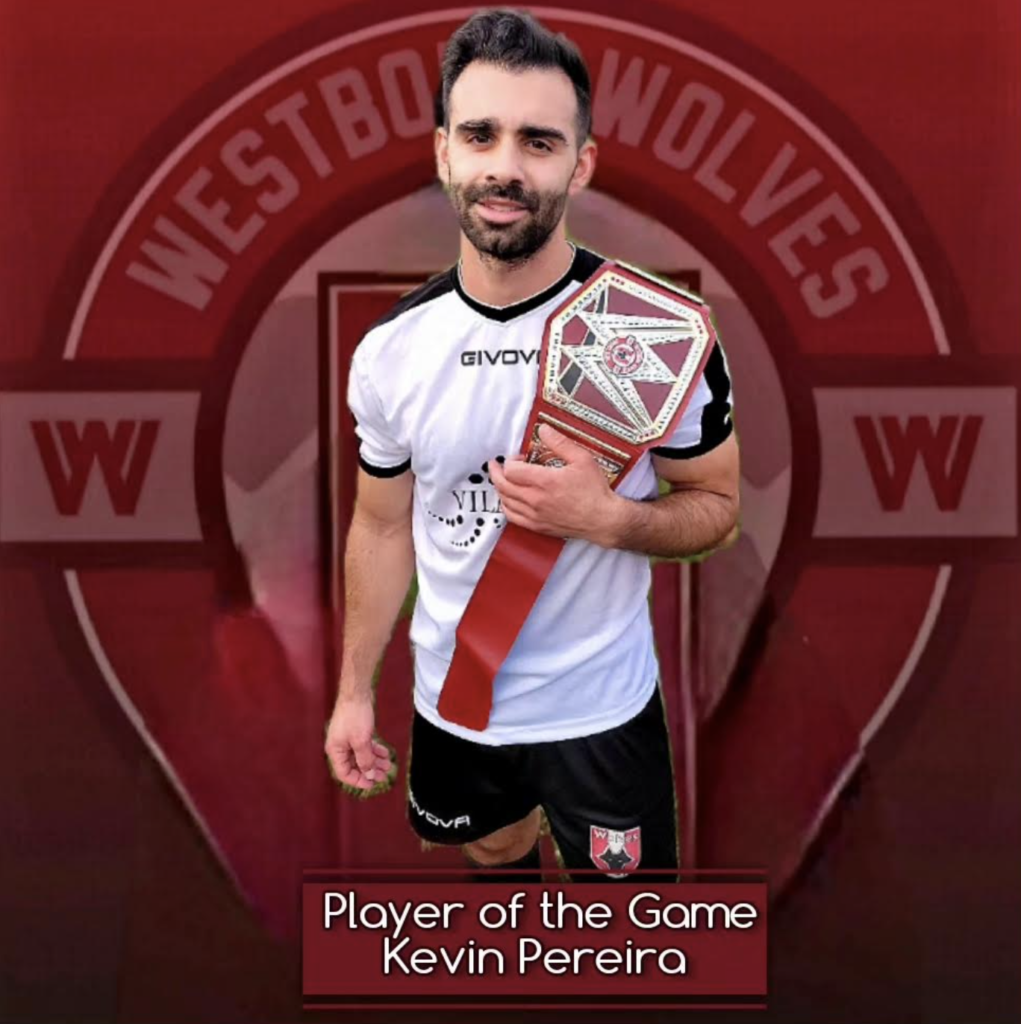 Kevin was playing with a slippery determination. The Hornet players thought they were defending him well but he pushed it into extra gear and blew past them, creating all sorts of scoring opportunities in front of their goal.
He knew that a 2-1 lead was slim and we needed another cushion and got it!
Well done Kevin P..
OT2: Wolves Face Their First Challenge from OT1 Merger !
By: Mark Burger, TEAM COACH
---
The OT2 Wolves had their first taste of OT1 this past week and it was not entirely indigestible.  Due to a lack of teams at the OT1 level, there was an in-season merger of OT1 and OT2, which has shaken up the schedule and provided the Wolves with their first of many tests against OT1 competition, in the form of AC Fiorentina, aka Cameroon.

Given this step up in quality, it was a good thing that this was our first week with more than 1 sub, as the Wolves fielded a relatively strong lineup.  It was a bright start, with a few quality chances on goal, but the lack of finishing early on may have cost us later in the match.  After being on their heels, early on, our opponents began to assert themselves, especially in midfield with numerous big, fast and skilled players.  Their long ball approach was not creating much against our Wolves composed back 3, anchored by the return of Mike Owen.  However, it was a set piece that put them in motion.  After being tasked specifically to man mark a giantesque #19, all Pete Worthing, with his giraffe-like' neck, could do was watch as the kick landed perfectly on the opponents' head and went into the back of the net.  This was followed up shortly thereafter with a rolling shot into the corner that no 'Stoner punch' (our keeper, Chris Stone) was able to stop.  Despite being down 2-0, the Wolves kept battling, first with a one timed shot from Jeff Dennis, off of a diagonal header pass from Maaakk Burger.  Then early in the 2nd half, the Wolves witnessed the early front runner for goal of the season.  Newcomer, Quang Dinh, from his defensive mid-position, intercepted a pass up the middle, stepped around an on rushing defender, took one more touch and then unleashed a rocket that went bar down and into the back of the net.  This beauty lifted the Wolves spirits and carried them forward for the next 20 minutes.

In these 2 moments, there were 2 plays that, if they had gone the other way, would probably have led to a different outcome.  First, after a quick free kick, Timon Gareau raced in on a 3 v 1, before sliding a delicious ball across for a Pete Worthing tap-in.  Unfortunately, the defender made up ground with cheetah-like speed, and blocked the shot which went over the bar.  Then, Maaakkk chipped the defenders to an onside Mike Popeil, who was one-toe-too-short to round the onrushing keeper, who managed to block the breakaway.  These moments deflated the Wolves, whose tanks were running on empty and Fiorentina owned the last 10 minutes to score 3 times in succession to steal the victory, mostly through mistakes caused by fatigue. All in all, a proud effort against a quality opposition.

Our 'Player of the Game' Quang Dinh was very impressive in his club debut.

Appendix from the Ottawa-Carleton Soccer League that demonstrates the importance of proper card checks !
As per the match official's special incident report with regards to game #1786, a ACF player did not show ID before the game or at halftime. Therefore he is deemed ineligible.
As such, Westboro has been awarded the 2-0 default win.
Editor's note: This isn't how our team wishes to win games but rules are in place to be followed.
---
Final Result
WOLVES 2
ACF 0
OT5: Wolves Almost Crawl Back !
By: Tim Ralph, TEAM MANAGER
---
It was a hard-fought battle with tons of missed scoring chances chances at both ends of the field.  Despite our keeper, Amedeo Melone making some seemingly unstoppable saves in the first half, and Noah Bright finding a way to clear an "empty net" shot as it was crossing the goal line, we just couldn't turn it around and capitalize on our offensive opportunities, and we found ourselves down 3 – 0, late in the second half.  Our Wolves, Jeff Beaty eventually found the net with a beauty header off a perfect cross from Peter Stewart.  Unfortunately that's where the excitement ended on the field with a 3 – 1 loss for the OT5 Wolves.

Post-game beverages were ice cold, thanks to Pete , and the beef sliders provided by Tim Ralph where an epic treat! 
---
Final Result
WOLVES 1
BEARS 3
OT6: The Tale of Two Halves!
By: Frank Maiorino, TEAM MANAGER
---
Our Wolves OT6 started out strong controlling play, led by attacking midfielder Q. Vuniqi who scored the first goal of the game on a low, hard, and powerful shot that the opposing keeper just watched go by him into the net. Gloucester countered quickly, after several offside calls, making it 1-1. Our Wolves then countered quickly scoring three consecutive goals by Vuniqi, who scored his second, and Salvador Hector Carrasco on a penalty kick, followed by our Wolves  MR4 call-up Alonso Gartner on a nice feed by fellow call up Kevin Ridgway. Gloucester Mexico then scored on beautiful free kick from the edge of the box that grazed the Wolves wall and found the far corner of the net.

The second half was one to forget for the Wolves as Gloucester scored 6 consecutive goals on a couple of well-placed and powerful long-range shots and numerous breakaways. Needless to say, the teenage referee was over his head and intimidated by the constant chatter of Gloucester Mexico players missing or failing to call numerous offsides which demoralized the Wolves and contributed to our second half frustration and collapse.

Editor's note:   our Wolves were leading 4-1 because we were playing the game as it was meant to be played.  Clean, fair, and with skill. Our opponents resorted to 'mind games'  and, unfortunately, without help from an inexperienced official, it affected our play. 


---
Final Result
WOLVES 4
G. MEXICO 8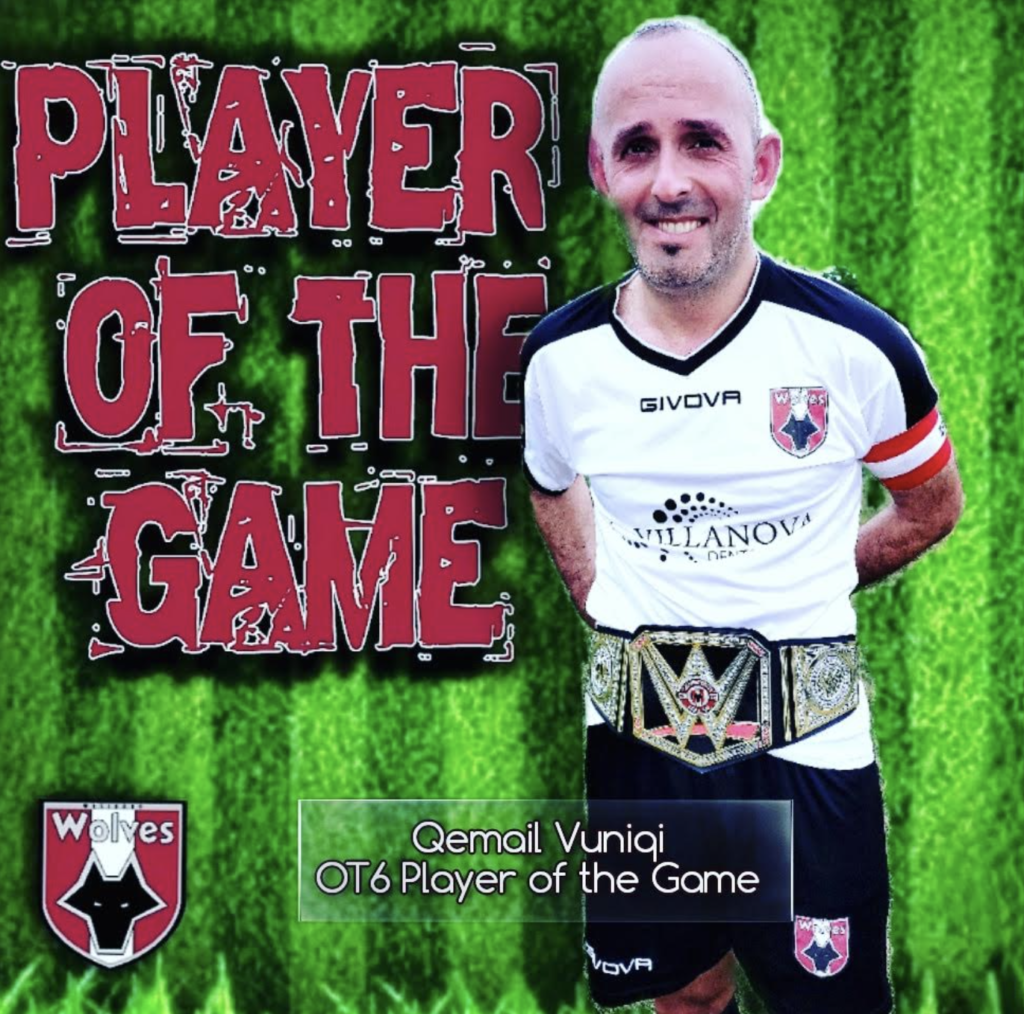 Welcome to the Pack
---
This is the newest member of the 'Wolverine Pack Appreciation' Club. He's a future Wolves CB. Little Malcolm is stylin' and looking handsome in his Wolves onesie. 
---