MR4: A Promising Start and Even Better Finish!
By: Tony zito, TEAM MANAGER
---
What an unpleasant surprise it was when we looked across the pitch and saw our old nemesis team that we had many a battle against, in years past, standing before us. And unfortunately, their rebranding, did not dampen their aggressive and immature style of play.
We started on the right foot, not chasing, but dictating this game but two unfortunate bounces saw our lead diminish and we were facing a 2-1 deficit. They sat back but we didn't seize the opportunity and it was becoming harder and harder to generate any offense. I think they got in our heads and we either kicked balls way too long or again, hung onto it, which, with their aggressive tackling, was very dangerous. And the verbal engagement must stop please. We received 2 unnecessary yellow cards tonight.
Thankfully, like flicking a switch, our game turned on, and we saw LIGHT!
We started moving the ball, from the back, on the ground. With precision and determination.
Our tying goal started from the backfield, Full back position, was then carried by our Outside Left Mid, fed perfectly in their 18, and finished by our striker. These types of goals eluded us in Week 1 and 2. We've found cohesiveness.
Mental fortitude is harder to achieve especially when every time you get near a loose ball, you expect to get hit. As this game went on, we got stronger and they 'parked the bus' and went even further, took the wheels off! We used our ball control, speed, and best of all, desire to win to seal this victory.
And doesn't it feel GREAT!!!
I'm proud that we're not the kind of team that tries to run through opponents. We have enough skill that we can play the game the right way. What I witnessed was a lot of passion on the pitch and the sidelines. As this game wore on, our conviction to win grew.
It's the WOLVES WAY!
Like low hanging fruit, late in this game, they were ripe for the picking, and we obliged. We not only scored the winning goal on a nice chip shot by Hardy Nunez de la Torre, but the ever important insurance goal by Q. Vuniqi and his jubilant reaction echoed how we all felt.
Aylmer was stunned. That's what happens when a team forgets to play the ball but chooses the body first.
Well done WOLVES!
Goal scorers:
Carlo Z. – 1 goal
Q. – 1 goal
Hardy N. – 2 goals
Thank you to Kevin P. and Samuel W. for the post-game bevies. They go down smoother after a game like this. And to our supporters…Miguel, Shaun, Heidi, the Gartner family, and of course Donart!
---
Final Result
WOLVES 4
AYLMER 2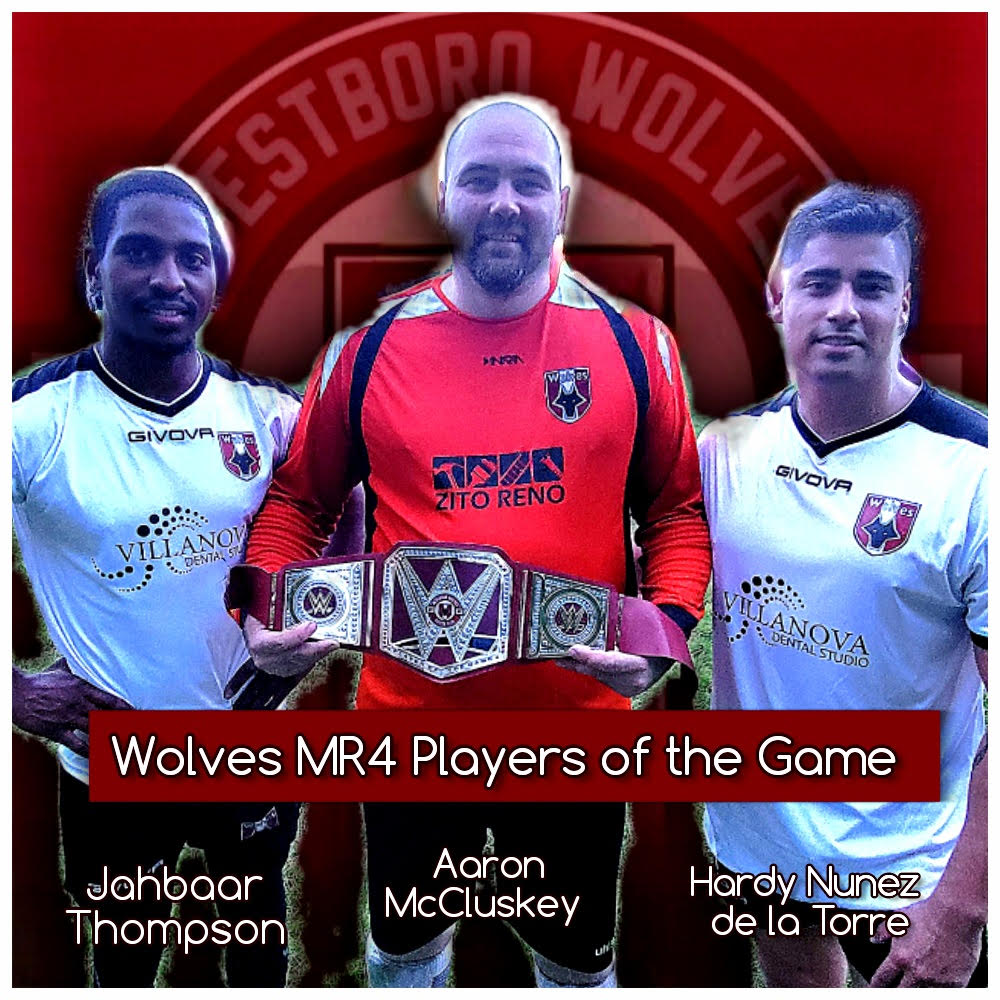 OT2: Wolves Preservered despite Low Numbers!
By: Mark Burger, TEAM CAPTAIN
---
The Wolves OT2 season long struggle to secure roster depth came to forefront this week in a rematch against the OASC Spitfires who they had drawn earlier in the season. Things looked manageable heading into the match with a planned roster of 11, but unfortunately, at game time, that number dropped to nine. So the Wolves were forced to dig in with a 4-3-1 lineup for ninety minutes in a hot and humid affair on the big turf field of Ottawa U.
To his credit, the referee was sympathetic, offering 2 water breaks each half, essentially diving the match into 6 segments. In the first 15 minutes, the Wolves were up to the challenge, playing sound defence, and being opportunistic and Mike Popiel almost got the Wolves on the board in the first 10 minutes, but was denied by a parka-wearing keeper. The Spitfires ramped it up in the next 15, scoring first off a 1 v 1, with a low shot to the corner that our keeper, Chris Stone had no chance on. However, the Wolves struck back nearly immediately. Mark 'Maaakkk' Burger got a chance off of Corey Sul's long throw into the box, pressured the keeper, and forcing the ball onto Mike Popeil's path, who calmly struck it home. This seemed to spark the Spitfires back into action as they scored another 1 v 1 goal to go up 2-1. From there, the Wolves played nearly flawless defence, and kept it close for the next 2,15 minute segments and we're only down 2-1 after 60 minutes. By this point, Mike Owen's tireless running was taking its toll, so the Wolves dropped Maaakkk into defence to complement Mike's wonderful defending, pushing Kyle Ingram further up the field to support the attack. It was a risk, and the Wolves were caught short handed and were undone by a neat give and go. At 3-1, there was no further comeback, especially after Lloyd Fernandez's own goal, which a stretching Stoner could not punch away.
The 9 Wolves that battled through the conditions can be proud of the effort, but it's clear more numbers are needed if the Wolves are to climb up the standings.
And Timon Gareau capped off the evening, in the parking lot, with some delicious meatball sandwiches.
---
Final Result
WOLVES 2
SPARTANS 7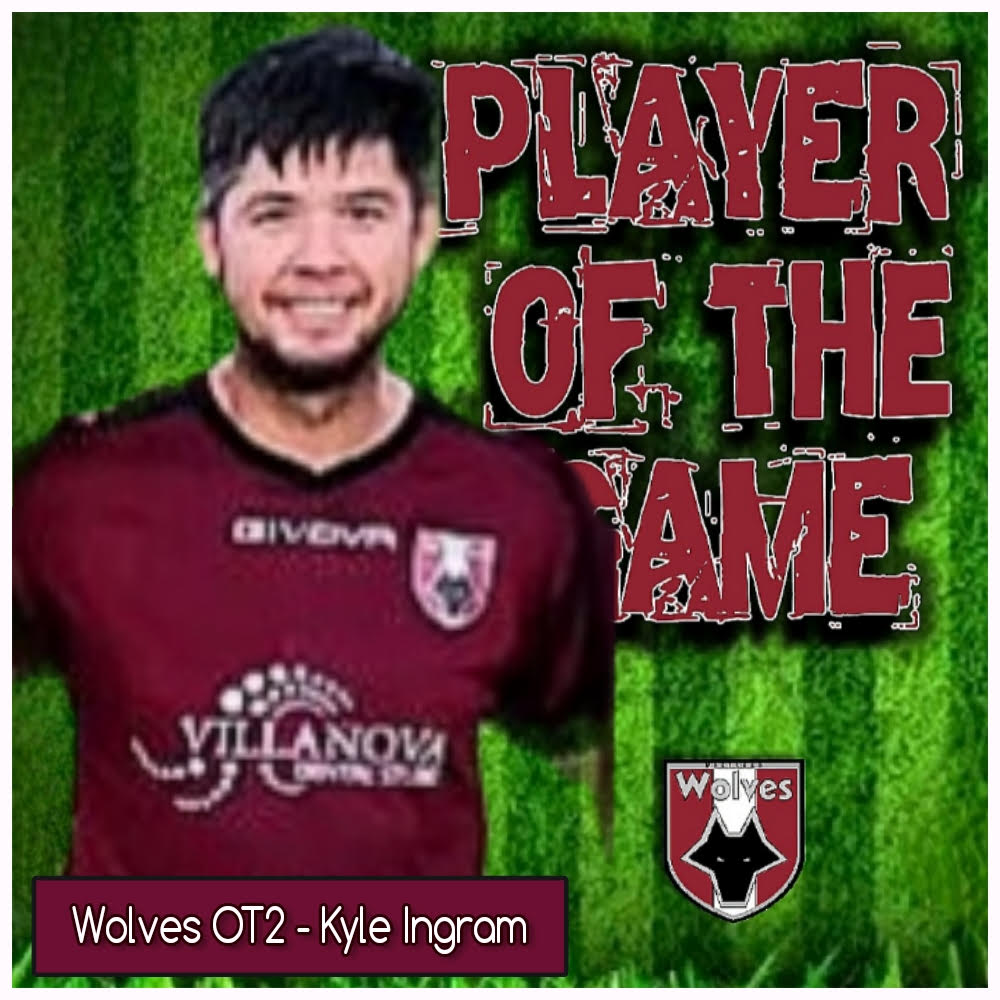 OT6: Some Luck Needed for Our Wolves 🍀
By: Salvador Herencia Carrasco, TEAM pLAYER
---
It was another hot summer evening in Ottawa, when the OT6 Wolves faced division leaders, AS Congo. Our team also welcomed back, Curvan Alexander to the squad, this time as our keeper, which will allow gaffer, Frank Maiorino the possibility to manage the team from the sidelines for the remainder of the season.
In preparation for this game, the team pivioted its 3-2-4-1 formation to a more classic 4-4-2. The purpose was to have a better control of the game, avoiding gaps between the lines. And for most of the game, this change worked, we demonstrated smoother passing and a better transition game between defenders and mid-fielders.
This was a hard-fought game, particularly in the first half. The match started with scoring chances from both sides. Our team had better possession of the ball, with good scoring chances from Vincent Weineke, Qemail Vuniqi and Adakole Kennedy. Unfortunately, a couple of turnovers resulted in goals. We also had a penalty kick, but their goalkeeper made a fortuitous save to keep us off the scoresheet.
But not for long.
Before the end of the first half, a free kick by Salvador Herencia Carrasco found Mahdi Hemmati in the area. He didn't miss this opportunity, putting our OT6 Wolves just one goal down. Our morale got a needed boost!
In the second half, Congo started stronger and after a series of corner kicks and turnovers, they managed a third goal.
Despite the stiffling heat, our OT6 Wolves didn't lose composure and tried to stage a come back. Unfortunately, it wasn't our day. Roberto Ferrante, Kevin Moorhouse, Q. Vuniqi, Salvador Herencia Carrasco, Vincent Weineke, Ted Pilon, Luca Ruggiero, Oscar Arrieta, and Ada Kennedy all had shots on goal, including two that hit the crossbar but the ball "just didn't want to go in". The defensive players were solid with Bruno Bossio, Marco Bernabo, Rocco Caminiti, Arben IIiriani, Mathew Crosier, Tony Zito, and Jamie Harris helping each other out, assuring that the pass towards the forwards were as smooth as possible. Towards the end, Congo scored their 4th goal.
Despite the loss, the team played significantly better, where each player had a greater understanding of what they had to do. Considering that we are still finishing the first round, these are encouraging news for the second half of the season.
Congratulations to the OT6 Wolves. We know that for our next game against Almonte Lynx, we will do better and that damn ball WILL go in.
---
Final Result
WOLVES 1
CONGO 4
FORZA WOLVES