MR4: Consistentency Best Describes Our WOLVES MR4!
By: Tony zito, TEAM MANAGER
Game 7: July 11, 2023
---
Warm shower taken ✅
Soaking wet jerseys and gear, washed and hung to dry ✅
Stats. entered on the League website, fines averted ✅
Wolves Pride still intact ✅
A much better performance, compared to our last match against these Falcons. The rise in our cohesive play is noticeable. There were no mistakes of note. We came in waves, if they managed to get past one of our players, there was always someone else covering.
Thank you for that!
I know a tie game feels disappointing because we're chasing this team in the standings but please note, these are the first points they've dropped this season and I'm certain, they know, what I'm sure all of you now know, we're a good team. We played consistently on the front foot. In the 2nd half, we withstood the constant barrage of fouls and free kicks given their way, There's no doubt in my mind that this team thought they were going to beat us. I believe they're just happy they didn't lose.
We should be content but let's not get ahead of ourselves. We still have a lot of games left to play and we need to continue to be determined and maintain our focus.
Honourable mention to our keeper, Aaron on his play and earning his first shut-out with the Wolves.
This season has seen us endure all sorts from Mother Nature. If it isn't suffocating smoke, it's torrential rain. Thanks to Jameson, Dennis, Fahad, Qemail, Matteo, Alonso, and Jahbaar for literally walking our canopy and all the gear to my car, under the bombardment of cold, unforgiving precipitation.
Despite the cover we still got drenched!
---
Final Result
WOLVES 0
AZZURI 0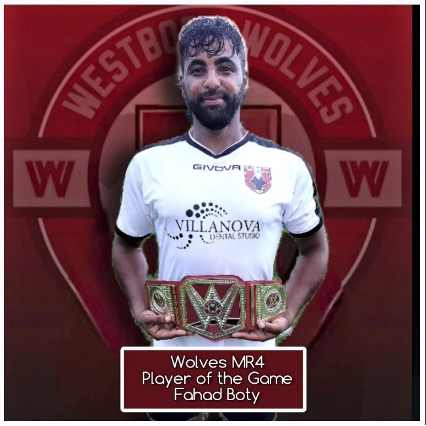 Another Spirited Showing for our Wolves OT2!
By: Mark Burger, TEAM COACH
July 14, 2023
---
Our Wolves faced another OT1 team in a close battle that, with a little luck, could have had a different result.
Facing the Ottawa Eagles at home, our Wolves were bolstered by the return of Bert Lee, Domenic Morgante, Liam Smithies, and Quang and the introduction of new spare, Viet Dung Dao, to the mix that provided some rare depth on the bench. Under hot conditions and long grass, the Wolves had a decent start, with a short corner leading to Maakkkk hitting the post, and Mike Popeil's rebound being cleared off the line. The Wolves opened their account with a beautiful first time belter from Liam that went bar down, off a neat cut back pass from Mike P.. Then an unfortunate bounce inside the box caused an unforced and unlucky hand ball by Quang. The Eagles slotted home the penalty to even things up. As the match wore on, however, the intricate close passing of the Eagles could not be matched by the Wolves who were constantly under pressure with the ball, leading to many turnovers. Eventually, the Eagles ball domination led to two more goals, creating that separation.
Despite this, the Wolves kept fighting and created a few more chances with Liam firing off the post, Mike P. forcing a couple of saves, and Maaakkk hitting the cross bar off a long distance cross. It was a decent effort against strong competition, but the Wolves seem to be on the wrong end the football gods, so far, this season.
A delicious post-game meal, hosted by Lloyd Fernandes, included chicken skewers, rice, potato salad, juicy fruit and macaroons.
---
Final Result
WOLVES 1
EAGLES 3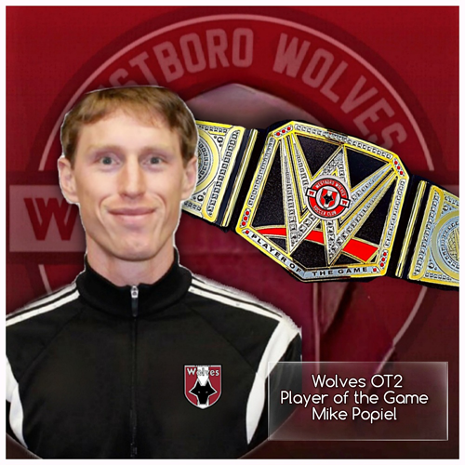 Wolves OT5 says, 'if there's no Pizza, there no Party!'
By: Adam Black, tEAM PLAYER
July 16, 2023
---
The Friday night lights were shining bright on July 14th at the Richmond Lions park field, but unfortunately an undermanned OT5 Wolves team could not live up to the hype.
After an early goal from Jay "Doc" Leclair was called back on a disputable offside call, the opposing Ottawa Hellenic squad took momentum and never looked back.
Despite the losing effort, the Wolves did have their fair share of chances throughout the game but simply could not find the mesh! After the final whistle, it was a disappointing 3-0 loss. However, the disappointment didn't last long as team social enthusiast and self-proclaimed "throw-in" specialist, Adam Black, while supporting local restaurants, supplied the team with a fine selection of post-game Pizza and wings.
---
Final Result
WOLVES 0
HELLENIC 3
Wolves OT6 Manage to Squeeze a Comeback 'W'!
By: Q. & Salvador, tEAM PLAYERS
Game 7: July 14, 2023
---
This week's BLOG includes a different perspective of the same game, by two of our WOLVES OT6 Players.
By Q.
Our game started off on the right foot. Luca Ruggiero scored probably the fastest goal this season with his left, less than a minute into the game. This uplifted our team's spirit and the boyz believed that we were on the right track. This felt especially true after Vince Weineke's goal which was perfectly placed above the Almonte keeper and down into their net. When you are leading by more than a goal, the comfort level rises and that's very likely what happened. Almonte started mounting a comeback, and managed to tie, before Kevin Moorhouse placed himself, in the right place at the right time, to make it 3-2 for our Wolves.
Going into half time, we were convinced we had this game under control.
That did not deter Almonte as they scored another two goals to make it 4-3 for them.
Though fatigue and discouragement was starting to settle in, we never gave up. We continued to bring the fight to their doorsteps, until we broke through. Wolves players Jefferson Daughtery (2 goals) and Kevin Moorhouse (1 goal) in the last 15 minutes managed to secure us this much-needed victory.
Salvador aka PMC:
It always is a team effort, though, sometimes you have those that step up and do the right thing for the team when called upon.
In another warm Friday in Ottawa, the OT6 Wolves faced Almonte Lynx for the final game of the first round of the league. The team was in good spirits and with a better understanding of the formation (4-4-2), our Wolves were confident.

During the first half, the team took control of the game and at the first shot on goal, the OT6 Wolves were on the scoreboard. Luca Ruggiero assisted by Mahdi Hemmati , shot to the right side of their keeper, making it 1-0. Shortly after, Kevin Moorhouse added another, also assisted by Mahdi, and Vincent Weineke, another, assisted by Q. Vuniqi. At the end of the first half, the score was 3 to 2 for our Wolves.

During halftime, the game seemed under control, but we reminded ourselves not to get overconfident. The first 10 mins of the second half has always been complicated for us so it was important to return to the pitch focused. Unfortunately, the situation got the best of us and within 5 mins, we had a tie game. To make things worst, our adversaries scored 1 more goal, putting them ahead, 4-3.

Due to the heat, the referee stopped the game for a water break. With 20 mins to go and losing by one goal, our morale was low. We needed a spark or something that could get our heads go back into the game. Opposing teams always have at least one player who doesn't understand sportsmanship. We were staring at one who's verbiage was our catalyst for a comeback.
However, Almonte scores again in a fast break, making it 3-5, with 15 mins to go.

Our team felt that we had something to prove to ourselves and we resorted to playing like we did in the first half. Short passes, playing smart and keeping the ball on the ground. After a series of corner kicks, Jefferson Daughtery scores, following a corner kick from Andrew Specogna. Its 4-5, with 10 mins to go. We keep pushing and after a series of good plays, Kevin Moorhouse scores again. It's a tie game with 5 mins to go.

We do not fall under any provocation or banter because we believe we can win this game. And with 2 mins to go, Jefferson scores again. The final result is 6-5 for the OT6 Wolves and its another win for the club.
This game displayed the resilience of our team and its ability to mount a come back. The odds were against us, but we played our game, reorganized the players, and ended up with a victory.

As the team kept scoring, everybody was giving their best. From Goal Keeper (Frank Maiorino and later Marco Bernabo), Defense (Dino DeDeFranco, Marco, Mathew Crosier, Rocco Caminiti, Salvador), Mids (Andrew, Arben IIiriani, Jamie Harris, Luca, Mahdi, Q, Roberto Ferrante, and Ted Pilon) and Forwards (Ada Kennedy, Kevin, Jefferson, and Vincent), everybody worked hard, and it paid off. A special shout out goes to Kevin Wirvin, Bujar Hoti and Stewart Smith for showing up to support us, despite their injuries.
---
Final Result
WOLVES 6
ALMONTE 5