It was a great week for our Club.
All of our teams that played were victorious!!
MR4: Late Surge Seals the Victory for Our Wolves MR4
By: Tony zito, TEAM MANAGER
---
Judging from the amount of time and players that stuck around after our game, we were feeling pretty good about the final result.
We should.
This game could have gotten away from us. After at least three squandered scoring opportunities, the opposing team gets one by us and we're chasing this game. Our frustration was mounting which led to some mistakes.
Thankfully our 'Sultan of Positivity', that would be Jameson Bevington, reeled us in and reminded us to play with 'calma' and that we were the better team. This motivated us to take control of play. That and a lucky bounce, as we saw when father and son, Diego and Alonso Gartner combined to level the score in the 2nd half. This was the soccer Gods handing us a break after our hard effort.
I asked for more urgency in our play and that escalated even further
due to our rain-shortened match. Losing that 20 minutes certainly made a difference. And losing Kevin Pereira to injury was a big blow. I don't think we wanted to settle for a tie and many of you stepped up, including Ignacio Chiazzo-Cardarello who, late in the 2nd half, made sure that his hustle on the ball resulted in the winning goal and a BIG sigh of relief from a lot of us.
The Falcons know how to hold a lead, they demonstrated that in our last game against them. But we've become more organized and cohesive since that match in May.
Thanks to Dennis Voltchek for manning the posts. It's been a while and you did admirably. To Dylan Tessier and 'Papa' Ahmed for the beverages
To our many supporters, once again braving the elements to come out and watch us play, we appreciate you all.
---
Final Result
WOLVES 2
FALCONS 1
OT2:
By: Tony zito, TEAM MANAGER
---
Our Wolves OT2 team did not play their game due to their referee's car trouble, he was unable to get to the field. The League will reschedule their game. However, they did see some game action. Several of their players helped out our OT5 and 6 teams.
Thank you very much.
---
OT5: Wolves are Liking those Sunday Matches!
By: Adam Black, TEAMMATE
---
The week 8 Game offered a change of scenery for the OT5 Wolves. Playing on a Sunday and on a neighboring pitch, these OT5's were looking to make their mark. This was our 2nd match against the Lynwood Red Stars. Our last result was a 2-2 tie game during the season opener.

From the opening kick-off, the Wolves took control and ultimately held onto momentum throughout the entire game. Led by the spirited play of Jeff "The Master" Beaty, whose 2 goal performance paced the team, the Wolves handily beat the Red Stars by a score of 5-2.

Mr. Reliable himself, Jay "Doc" Leclair capped things off​.
Other scorers in the game were call-ups ​f​rom our Wolves OT2 and MR4 teams. We thank them for helping out.
TEAM Photo Night
Observations by Club Manager, Tony Zito
Club President, Tony Zito visited Richmond Lions Park to capture our OT5 team photo.
On a balmy but perfect evening for a soccer game, I​ noticed an important trend throughout this game. The sportsmanship displayed by both teams was refreshing and noted by the game official.

The post-game spread was equally splendid, featuring fresh, steamed corn on the cob chased with perfectly cooked ribs compliments of teammate and Boston Pizza Barrhaven owner, Russ Arthurs.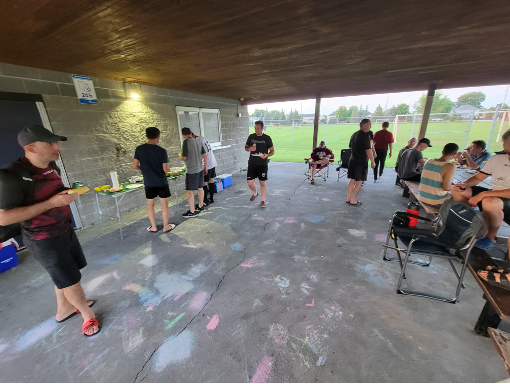 ---
Final Result
WOLVES 5
RED STAR 2
OT6: History does not always Repeat itself!
By: Q. Vuniqi, TEAM ASSISTANT MANAGER
---
What do you do when you are playing a tough opponent or your nemesis in mid-summer while most of your players are away on vacation?

This was a challenge our team leadership faced for this match. We started off the week with only eight players available​. Slowly working with other members of our club, we managed to form a squad that could've played against Bayern and maybe not lose 27-0.

On game day, we asked several players to play out of position to provide some balance and counter opponents tactics.

The game got off to a great start with chances for both teams but nothing solid until Ada Kennedy hit a banger in the lower right corner of their goal, and BOOM we were in the lead. The advantage of leading is that the other team will commit additional bodies when attacking which provides an opportunity for our team to counterattack. About ten to fifteen minutes, later Ada makes a great run with the ball and crosses it into the opponent's box where Kevin Moorhouse made quick work of this opportunity to put it past their keeper. Before we knew it, it was half time, and we were leading 2-0. Not a bad start after all!

Second half kicked-off and we were back at it battling it out in the torrential rain and deep puddles formed on the pitch, which literally stopped the progression of the ball. It reminded me of ​that Scotland vs. Georgia game​. Check out some clips and you will know what I mean. About 20 minutes in the in the second half, Ada provided another great assist, to Q. who managed to run past their last man and find the net making it 3-0 for our Wolves.

At this point, the opponents weren't too pleased and seemed to have run out of ideas. They continued attacking and we continued defending, until they broke through and made it 3-1. At this point, it was too late for them to score any more goals given our stellar defending and great saves by the newest addition to our Wolf Pack, keeper Oscar Renato Arango, playing in his first match for us. Overall, it was a great fluid team effort from everyone, and it paid off.
Honourable mentions to Wolves MR4's, Alonso Gartner, OT5's Mitsou Yamada, and OT2's, Lloyd Fernandes and Eamon Kavanagh for playing with us in this tough match. Let's not forget, this was the team that won their first match against us handily and were confident they would do the same this time – NOT today!
Our WOLVES OT6 'PLAYER of the GAME' BELT recipient, for his 2nd time this season, is Q. Vuniqi.
---
Final Result
WOLVES 3
DUNDAS 1
There's a saying that, 'imitation is the sincerest form of flattery'. Our 'Player of the Game' and belt idea has been used by other teams in our League. ​ We're honoured with this compliment.
Our Wolves OT5's Mark Jones, OT6 Assistant Manager and Wolves Webmaster, Q. Vuniqi, and Club Manager, Tony Zito are sporting our latest pre and post-match merch. We be stylin'!
FORZA 🐺 WOLVES
Have a wonderful rest of your week everyone.
Check us out on Instagram @westborowolves