WOLVES MR4 Deserved More!
by Tony Zito, Team Manager
This one still isn't sitting well with me.
We all deserved a much better result. We dominated on almost every part of the pitch BUT one, in their 18. And this is keeping games a lot closer than they should be.
Luck and that elusive touch, doesn't seem to be on our side these past few games.
There's no denying that we have the talent. Our opponents had only 2 real chances and both ended in the back of our net. We had several opportunities but posts and crossbars saved them When your opponent comments that their win was bullsh*t luck….there's no other way to call it.
What we'd give for some of that luck right now.
Final Result
Wolves 1 – Gloucester 2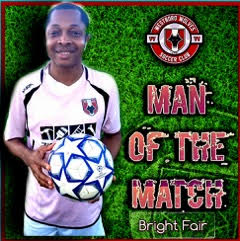 Our Man of the Match
Bright was all over the pitch. His determined effort led to our tying goal and he almost scored the winner. Well done Bright!
WOLVES OT2
Wolves OT2 Take a Stronger hold of 1st Place!
by Tony Zito, Club Manager
The 2nd leg of our Wolves OT2 team's game against Ottawa TFC was cancelled due to OTFC not being able to field enough players. Our Wolves were awarded a 2-0 victory.

Dutifully, several of their players helped out our depleted OT3 and OT4 teams. Both teams won their games.

Thank you Boyz for helping out our Wolf Pack!
Final Result
No Game This Week
WOLVES OT3 Overtake 1st Place S.C. Bosnia
by John Bergeron, Assistant Manager
Friday saw a clash of the top two teams in OT3! Our Wolves OT3 hosted S.C. Bosnia at Ben Franklin Park.
Bosnia entered the match undefeated and at the top of the division, three points ahead of us.
A physical, but mostly clean match ensued with our lads controlling most of the play and chances. Midway though the first half, a missed pass from the Bosnian keeper was intercepted by Jeff Beaty who darted to the net and despite the efforts of a defender's slide, was able to put the ball in the back of the net to put us ahead 1-0.
We squandered several opportunities to increase the lead and our defenders and keeper thwarted any attacks the Bosnians threw at us. Eric Chauvin's speed and calm demeanour was vital in keeping us in the lead.
We continued to press in the second half, missing some great opportunities. The Bosnian keeper made a desperate diving save to his left to keep his side from falling further behind. Moments later, our keeper, Edson Resendes, matched that effort with a diving save to his right, keeping us ahead.
Later, the Bosnians would turn over the ball and our 'Man of the Match', Kyle Ingram (OT2 call up) dashed down the left wing leaving defenders in his wake and spawning an odd-man rush. He crossed the ball to our striker, Elliott Faller, who then faked the keeper into submission, walked around him, and buried his shot to double our lead. With the exception of a rocket that just missed the top corner, a deflated Bosnian side could not manage any significant chances the rest of the way.
As the final whistle blew, we banked the three points and now sit at the top of the table on goal difference (pending other league results).
Final Result
Wolves 2 – Bosnia 0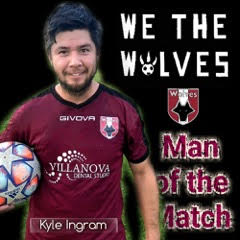 Special thanks to Eamon Kavanagh and Kyle Ingram from our Wolves OT2 whose excellent play was essential in our success.
WOLVES OT4
Short Bench, No Problem!
An early game under the hot sun proved to be just what the doctor ordered for the OT4 Wolves. Powered by a superb possession game, fiery offensive attack and backed by the stellar play of the team's third string goalkeeper, Mike "the wise guy" Wyzga (our 'Man of the Match').
This game was approached with a great level of uncertainty and doubt, as the Wolves were short several key cogs in the lineup. However, swift decision making from team brass proved helpful and special mention goes out to the group of 4 mercenary players brought in from a partnered Wolves OT2 team to provide added firepower! They were Duc Tu, Lloyd Fernandes, Michael Owen, and Shahzad Aziz.
The Wolves cruised to a 5-3 victory over an overmatched rival, West Ottawa Spartans!
The team headed into the long weekend grinning and with added reason to celebrate!
Go Wolves Go!
Final Result
Wolves 5 – WO Spartans 3
Wolves OT5 Rebound with IMPRESSIVE Win!
by Frank Maiorino, Team Manager
Wolves OT5 bounced back after last week's tough loss to Fusion Hoang by beating a feisty Fitzroy Harbour side 5-0 on the road.
The game began with some great passing plays by the Wolves who dominated possession. Bujar Hoti and Qemail Vuniqi took numerous shots just missing the net or forcing Fitzroy keeper to make acrobatic saves. The impressive Wolves skill continued as Salvador Herencia Carrasco began to take wide runs and make some impressive crosses into the box, one of which found the head of Luca Ruggiero who scored his 5th of the season making the score 1-0. Shortly thereafter a through ball by Fitzroy snuck under the foot of Wolves fullback Curvan Alexander and onto the foot of a fleet-footed Fitzroy forward who barrelled down on the Wolves net and made a hard shot to the bottom corner of the net. Our keeper, Dorian Proulx stuck out his hand and deflected a sure goal towards behind the net.
The half ended 1-0 for the Wolves.
The Wolves came out hard after a pep talk from coach, Frank Maiorino and dominated play once again. Star forward, Jefferson Daugherty, just back from vacation, scored a pair of beautiful goals highlighting his skill and confidence. Fitzroy was undeterred however and managed to get another breakaway and shot that was somehow saved in acrobatic fashion by Dorian Proulx after a mad scramble in front of the net. The Wolves then regrouped and scored off a couple of crosses from Herencia Carrasco, one that was headed in by Kevin Moorhouse and another that was drilled into the back of the net by Qemail Vuniqi making the final score 5-0.
Final Result
Wolves 5 – Fitzroy 0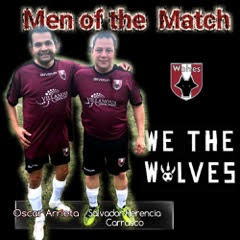 'Men of the Match' were Spanish-speaking sensations Salvador Herencia Carrasco and Oscar Arietta.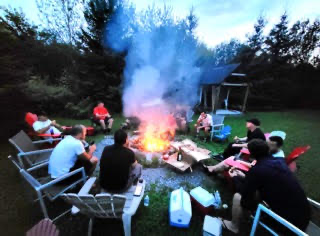 Editor's Note: Afterwards, teammate, Bujar Hoti hosted a post-game Pizza party on front of a roaring fire pit.
Thank you Bujar (and family) for your generous hospitality.
It was almost a clean sweep for all Wolves this week.
3 of our 5 teams are sitting in 1st place.
Keep it up Boyz!
Good luck in your games this week!
FORZA WOLVES